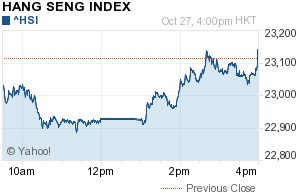 Oh this is so ridiculous!  
After opening down 200 points (1%) the PBOC boosted the Chinese markets with yet another announcement of easing monetary policy.  This time the PBOC cut borrowing cost on reverse REPOs: 
The PBOC reduced its one-year lending rate to 4.35 percent from 4.6 percent effective Saturday, while the one-year deposit rate was cut to 1.5 percent from 1.75 percent. Reserve requirements for all banks were lowered by 50 basis points, with an extra 50 basis-point reduction for some.

"Now that the deposit rate is entirely liberalized, the market is more focused on the rates in open-market operations," said Cici Wang, an analyst at Citic Securities Co. in Beijing who expects the seven-day repo rate to fall to about 2.2 percent. "Deflationary pressure became more marked this year."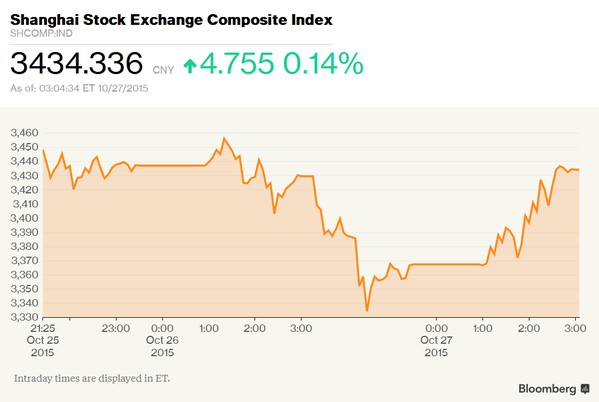 CLEARLY the PBOC is terrified of another market correction and will do ANYTHING to support it – even look like idiots as they add more stimulus measures the next market day after they announced another fresh batch.  This is not economic policy – this is micro-managing the markets and you don't micro-manage things you aren't very concerned about, do you?
Keep in mind, in the big picture, the Shanghai is still down 35% from 5,200 just a few months ago, so whether it goes up or down 1% in a single session should not be something China's Central Bank should be fussing with, yet they are TERRIFIED of any sign of weakness.  And well they should be – 40% off or more from the highs is NOT where you want to finish your year and China certainly doesn't want the market collapse to mar their 13th Penary Session this week. 
Indeed, just like in the US, everything is in China – at least according to the state-controlled media (theirs, not ours – well, ours too).  In fact,…
Provided courtesy of Phil's Stock World.