After dropping to an all time low 62.9% in Q2 of 2016, the US homeownership rate rebounded modestly in the subsequent two quarters, then dropped again modestly at the start of the year, before once again rising fractionally 63.7% from 63.6% in Q2 of 2017, just 1% from the all time lows in the series history going back to the mid 1960s.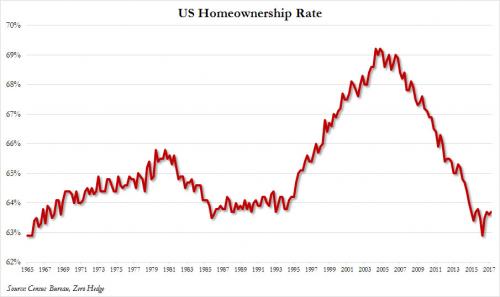 A breakdown of the data by age group reveals that the primary driver for this latest decline was once again the youngest age cohort. While older Americans, especially those 65 and older, have predictably seen only modest declines in their homeownership in recent decades, it was the youngest age group, those 35 and younger, i.e. the Millennials, who over the past decade have seen their homeownership decline steadily from the low 40%'s to the mid-30%, although in Q2 there was a glimmer of good news, as the homeownership rate for Americans 35 posted its first increase in 3 quarters, rising from 34.3% to 35.3%.
As shown in the chart below, the homeownership rate for Americans 35 and younger has declined from 43.6% in June 2004 to 35.3% in the latest quarter, and just shy of the lowest rate reported by the Census Bureau going back nearly a quarter century. Of note: while the Millennials bought houses in the latest quarter, the homeownership rates for every other age cohort declined in the second quarter.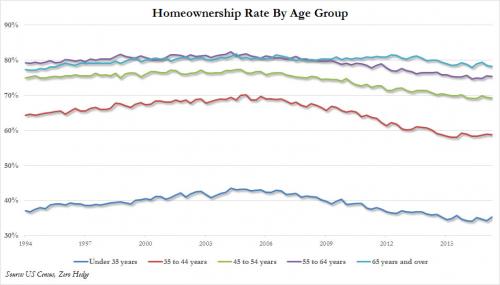 But what was most notable in the latest Census data is that for yet another quarter, most Americans opted not to own, but rather rent, and in Q1 the median asking rent jumped by 7.4% Y/Y, from $864 in Q1 to $910.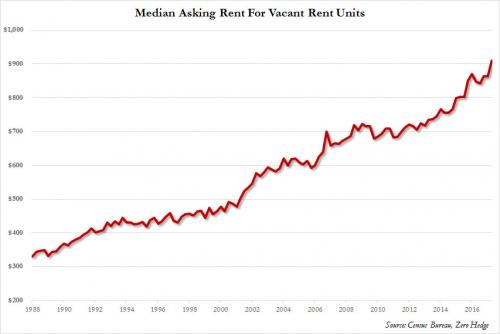 Broken down by region, there was a sharp spike in asking rents in the Northeast and Western region, whose median asking rents were nearly identical, at $1,182 and $1,192, and an increase of 21% and 16%, respectively.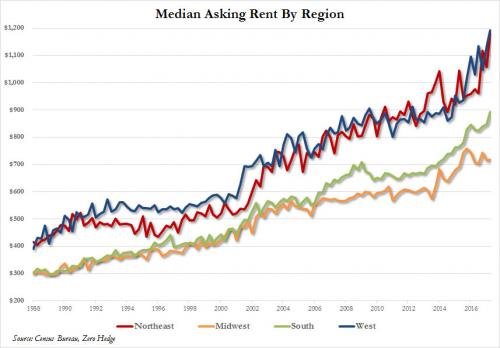 Finally, what makes the latest spike in rents curious is that while the homeownership vacancy rate declined in the latest quarter, the rental vacancy rate actually increased to 7.3% from 7.0%, the highest since Q1 2016. The rental vacancy has been increasing since Q2 2016 when it troughed at 6.7%, and has since posted four quarters of consecutive growth. It would seem counterintuitive that the vacancy rate is rising even as median asking rents are hitting new all time highs.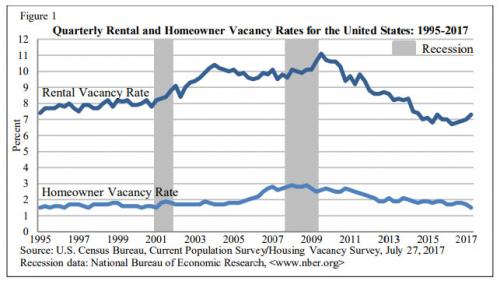 While a new record in rents is hardly what Americans want to hear, it will be music to the Fed's ears as it means that contrary to various other calculations and imputations, inflation in the US is alive and well.