General Electric Company GE is poised to introduce newer and smarter lighting technology solutions in 2018. Several of the new C by GE connected lighting solutions, which enhances the security and convenience of any room through voice control and scheduling, will be available in the commercial market in the latter half of the year.

GE Lighting, one of the operating segments of GE, provides smart, cost efficient lighting solutions. C by GE is currently working on several such products that will be offered to upscale modern consumers. Premier among these technological marvels are smart lights.

These lights will be operated using a person's voice or via their smartphones. These controls can be operated remotely i.e. users no longer have to be physically present in their homes for turning on/off the switches. These lights will adjust their brightness and temperature in accordance to a person's sleep cycle. Apparently, the new technology will not be limited to the light fixtures but will enable users to control other smart products such as coffeemaker, home locking systems and Bluetooth speakers.

Another of these products is the Wi-Fi-connected voice-integrated Smart Ceiling Fixture. These fixtures come with their own microphone and speaker and will be compatible with Amazon's Alexa, the Google Assistant and Apple's Siri.

Smart Wall Switch, a light switch with Wi-Fi-connectivity, along with built in temperature, humidity and ambient light sensors, is also being worked on.

In addition, two of GE's existing products have also been promised updates.

The company plans to add Apple HomeKit to its C-Life and C-Sleep Bluetooth smart bulbs, which already support Amazon Alexa and the Google Assistant, although a C-Reach bridge will be required to be plugged in. GE's Sol Lamp, which is compatible with Amazon's Alexa, will also have several features added.

Interesting as these technological creations maybe, it remains to be seen how affordable these are for the general public and how well they contribute to GE's profitability. Shares of the company have underperformed the industry in the last three months, with an average loss of 26.6%, significantly wider than a decline of 3.5% for the latter.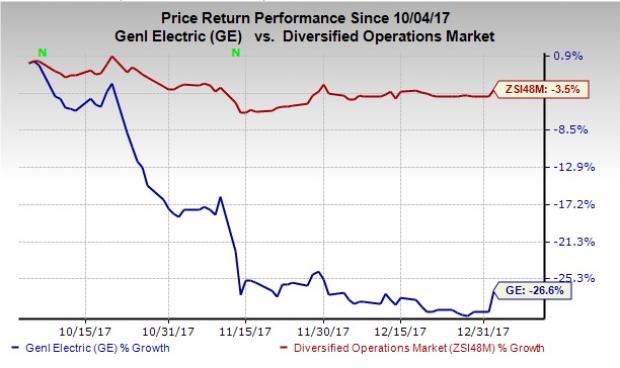 GE currently has a Zacks Rank #5 (Strong Sell). Better-ranked stocks in the industry include Raven Industries, Inc. RAVN, Leucadia National Corporation LUK and Bunzl PLC BZLFY each carrying a Zacks Rank #2 (Buy). You can see the complete list of today's Zacks #1 Rank (Strong Buy) stocks here.

Raven has an expected long-term earnings growth rate of 10%. It has exceeded estimates thrice in the trailing four quarters with an average beat of 25.8%.

Leucadia National Corporation has an expected long-term earnings growth rate of 18%. It has exceeded estimates thrice in the trailing four quarters with an average beat of 21.2%.
Bunzl PLC has an expected long-term earnings growth rate of 3.2%.

Investor Alert: Breakthroughs Pending

A medical advance is now at the flashpoint between theory and realization. Billions of dollars in research have poured into it. Companies are already generating substantial revenue, and even more wondrous products are in the pipeline.

Cures for a variety of deadly diseases are in sight, and so are big potential profits for early investors. Zacks names 5 stocks to buy now.

Click here to see them >>
Want the latest recommendations from Zacks Investment Research? Today, you can download 7 Best Stocks for the Next 30 Days.
Click to get this free report
Leucadia National Corporation (LUK): Free Stock Analysis Report
General Electric Company (GE): Free Stock Analysis Report
Raven Industries, Inc. (RAVN): Free Stock Analysis Report
Bunzl PLC (BZLFY): Free Stock Analysis Report
To read this article on Zacks.com click here.
Zacks Investment Research