Yesterday's tumble on the read-through from component-maker Dialog Semi added to fears, noted by Berenberg Bank the previous week, that iPhone sales momentum was not as rosy as Tim Cook told Jim Cramer after all, is not seeing many BTFDers this morning. As we previously noted, the China channel checks painted an ugly picture, and now JPMorgan (while maintaining their 'overweight' rating on AAPL) is warning that it expects "cautious guidance" amid a weakening global macro picture.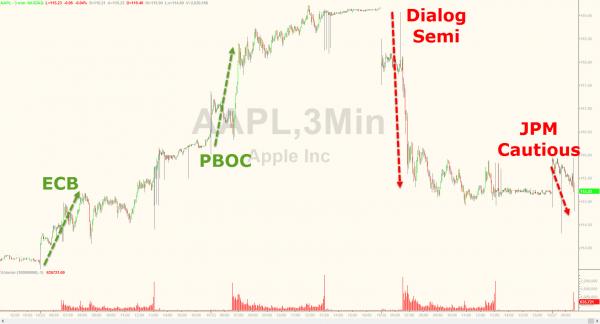 Are iPhone 6s volumes tracking at a lower level than the iPhone 6 a year ago?
There are signs. In its earnings report on Monday, Dialog Semiconductor, who supplies custom power management chips to Apple for the iPhone, said it was expecting only around 2% growth for 4Q. According to a research note from Killik & Co, volume growth for iPhones in 4Q will be negative.

 

This dovetails with another research note last week, this time from Berenberg Bank, which said momentum and fast money funds are exiting Apple stock as speculation around declining iPhone volumes heightens. This means that Apple, which the bank said has kept the tech complex alive, is probably going to be the trigger to bring that tech complex down.

 

"When Apple cracks, and we emphasize 'when' as opposed to 'if'," the bank said, it should bring down semiconductor stocks again, and especially those Apple supply-chain names that have been relatively resilient.
And JPMorgan is "Expecting cautious guidance"
Apple is expected to release their FQ4 results and guide to FQ1 on Tuesday. After the unexpected weak Dialog Semi guidance on Monday we believe the setup into earnings is mixed. Given weak macro we believe cautious guidance for FQ1 to December is likely but this is now at least partially (though probably not completely) discounted.
Bigger picture Apple's guidance will be the next major global consumer datapoint though we don't believe Apple or anyone else know how aggregate consumer demand will shape up this Fall.
 
Dialog Semi read-across: DLG released its Q3 earnings statement and preliminary Q4 guidance today ahead of their full earnings call this week on Wednesday the 28th. Weak guidance for Dialog's Q4 implies Mobile Systems Y/Y revenue growth of ~0% in Q4 after 18% growth in Q3. After adjusting for lead times, we estimate that DLG's Q4 revenue guidance implies ~7% Y/Y growth in revenue related to Apple. We believe this implies ~2.5% Y/Y decline in iPhone units based on our assumption of 8.5% Y/Y ASP growth for DLG. We note that the range of possible outcomes here is wide though the implication is incrementally negative.
Cautious FQ1 guidance anticipated. We believe that global demand for the iPhone 6/6S and 6+/6s+ remains strong. We are forecasting 47.6m iPhone shipments in FQ3 (+21% Y/Y) and 75.5m in FQ4 (+1% Y/Y). While macro data remains mixed to slightly positive, we believe that Apple will likely guide conservativelygiven recent negative datapoints.
FX headwinds: FX impact on Apple's total revenue on a Y/Y basis is a headwind for FQ4'15, in our opinion. We believe that FX will continue to be a factor in FQ1'16 on a Y/Y basis as well. Using FX rates up to this point and assuming spot rates going forward we estimate Y/Y depreciation of 13% for the EUR, 6% for the JPY, 30% for the RUB and 52% for the BRL.  In FQ1'15, FX had a negative 4pp impact on Y/Y revenue growth according to Apple. This is similar to the blended ~4% impact we current calculate for Apple's revenue this FQ1.
Apple Watch reviews: We are forecasting 9m Watch shipments in FY15, growing to 47m in FY16. We hope for some indication of Watch units from Apple today though we suspect the company will refrain from providing this data.
iPad shipments to decline: We expect another weak iPad quarter from Apple. We are forecasting 10.59m iPad shipments in FQ4and 19.71m in FQ1'16.
Mac share flat: We are forecasting 4.69m Mac shipments in FQ4. We are currently expecting the Mac to losea slight 0.2pp share Y/Y in FQ4.
FQ4'15 estimates/guidance/consensus: For FQ4'15, we are forecasting total revenue of $50.71bn (cons: $51.02bn, guid: $49-51bn), gross margin of 39.2% (cons: 39.3%, guid: 38.5-39.5%), opex of $5.93bn (cons: $5.88bn, guid: $5.855.95bn), EBIT margin of 27.5% (cons: 27.8%), and EPS of $1.84(cons: $1.88).
FQ1'16 estimates/consensus: For FQ1'16, we forecast total revenue of $81.34bn (cons: $77.05bn), gross margin of 38.8% (cons: 39.7%), opex of $6.41bn (cons: $6.16bn), EBIT margin of 30.9% (cons: 31.7%), and EPS of $3.30(cons: $3.20).
*  * *
"No-Brainer"
Charts: Bloomberg