I noted the prospect of falling copper price earlier this week. Copper will retreat further.

It appears that the bearish swing is developing. Copper price is now approaching a key support cluster area. 

Copper Daily Chart 8/5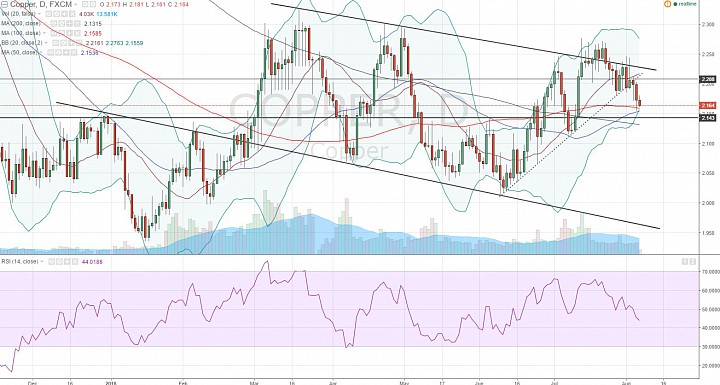 (click to enlarge)

Support cluster:
- 2.14 represents a previous resistance pivot area that some will use as a guide to buy.
- We can also see that the 50-, 100-, and 200-period simple moving averages are clustered around 2.14. These moving averages might act as reinforcement support,
- I am not saying that copper will turn up from 2.14.

Bearish outlook:
- The 2.14 level is a test of the bearish outlook. Bears are in control in the short-term so far since price retreated from 2.275. We might see a little short-term buying around 2.14,
- But in the medium-term, if price breaks down this support, copper has some ways to go. 
- In fact, if copper price action follows the pattern started in March (lower high and lower low in a falling channel), then price is exposed to the 2.00 psychological low and support pivot going back to early 2016 and late 2015. 
- Since late 2015, copper has been in a choppy market with bearish bias. 2.00 is aggressive, but still a viable target in this mode. 

Bullish outlook:
- A hold above 2.14 can maintain the bullish medium-term mode since June. 
- Let's say price consolidates above 2.14 next week, then breaks above this consolidation, we should anticipate another test of 2.275, and a possible break towards the highs on the year around 2.30.