Corvex, 40 North disclose joint 7.2% stake in chemical maker
Huntsman deal lacks strategic rationale, U.S. investors say
Clariant AG's planned $6.4 billion takeover of Huntsman Corp. came under attack by two U.S. investors who are pushing the Swiss chemicals maker to explore alternatives to the six-week-old transatlantic deal.
Keith Meister's activist hedge fund Corvex Management and 40 North, the investment firm run by David Winter and David Millstone, own about 23.9 million shares, or 7.2 percent, of Clariant, the investors said in an emailed statement Tuesday. The stake is held through a company called White Tale Holdings, now Clariant's largest single shareholder, they said.
"We believe that the proposed merger significantly undervalues Clariant's shares and that far more value could be created for shareholders through any number of alternative transactions," the investors said. "The proposed merger has no strategic rationale and is in fact a complete reversal of the company's longstanding strategy of becoming a pure-play specialty chemicals company."
Clariant shares rose 3.2 percent to 22.23 francs at 12:18 p.m. in Zurich, the highest level since May 22, giving the company a market value of 7.4 billion francs ($7.7 billion).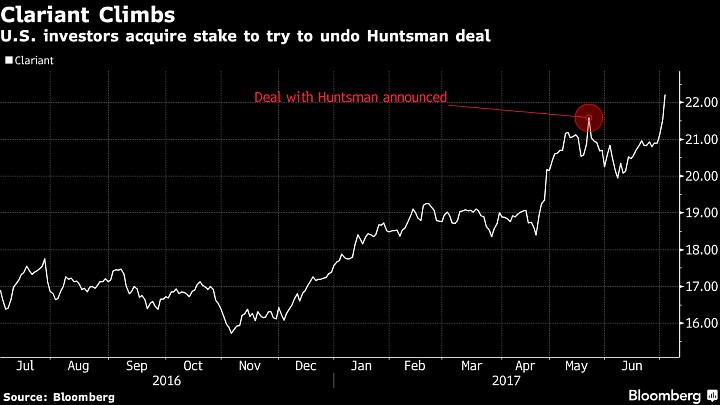 The move on Clariant is part of a growing wave of shareholder activism targeting European companies. Dan Loeb's Third Point confirmed last month it's amassed a $3.5 billion holding in Nestle SA, targeting Europe's largest company by market value on the heels of hedge fund Elliott Management Corp.'s bruising battle to get Dutch paintmaker Akzo Nobel NV in takeover talks with a...
More