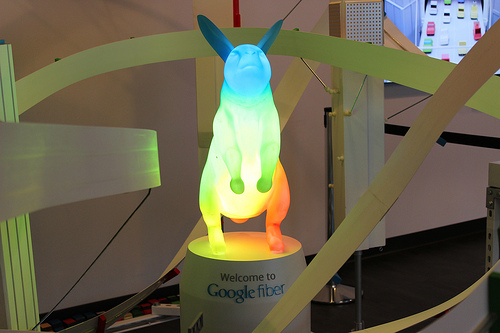 Google Fiber (NASDAQ: GOOG) is expanding into San Antonio Texas, according to an announcement by the city's mayor, Ivy Taylor. Due to the nature of the service, it requires a specific infrastructure and is still only available in select cities nationwide.
"This could mean amazing things for increasing access for affordable Internet services throughout our community," Taylor said, according to The Huffington Post.
For both television and Internet services, Google will run a customer $130 and $70 for just Internet, according to The Huffington Post. Google Fiber operates at a higher bandwith than typical connections, making it faster than an average connection.
John Toccalino describes how this works in Google Fibers blog:
"Well, with most standard broadband connections, it is much faster to download a file than it is to upload one of the same size. That's because most of the bandwidth, or the network's capacity, is devoted to the content that users are trying to view online, such as their email or streaming video on sites like YouTube.
But with Google Fiber, our users will be able to download and upload files at the exact same speed. Think about being able to upload that huge powerpoint presentation you made for work, or that video of your child's first steps in mere seconds!"
In a world that is increasingly becoming more digital by the second, consumers what the fastest, cheapest Internet connect they can connect their phones to. If Google provides the most inexpensive and fast Internet, that's where customers will flock to, making the tech behemoth that is Google even more powerful. 
However, as aforementioned, the services can only operate in certain areas due to the infrastructure the system requires. This is an interesting component to factor into the equation, considering other providers span coast-to-coast. 
For more business and financial news, click here.
*This is editorial content and expresses the opinion of the author.