If there was any debate whether Yellen's testimony today was hawkish or dovish, the bond market certainly made it clear what it thinks, when first the 10 Year yield tumbled back under 2.00%, and then moments ago, the Treasury auction of $26 billion in 2 Year paper continued to trend of strong demand for government paper, when 3.45 bidders lined up for every dollar for sale, at a closing yield of 0.603%, 0.5 bps through the When Issued.
And once again, the surge in demand was thanks to foreign buyers, with Indirects, i.e. mostly foreign central banks, taking down 48.2%, Directs showing signs of life after tumbling to a year-low in January, at 13.27%, and leaving just 38.5% to the Dealers: the lowest allottment to the banking community since March 2014.
Altogether, hardly any indication that the short-end of the curve is worried about any rate hike any time soon. In fact, TSYs are comfortable betting that yields will hardly rise more than a few dozen basis points from here over the next 2 years.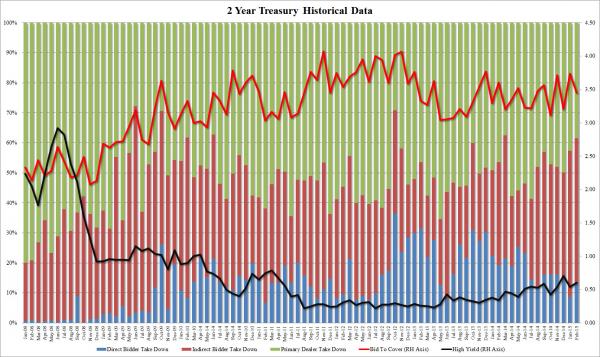 Incidentally, the near record number of shorts coming into today's auction certainly did not get the hawkish collapse most were expecting. It remains to be seen if they cover or keep holding. As a reminder, 2 Year was trading super special at -2.8% in repo earlier today - about as bad as it gets.