Throughout the entire month of February NZD/USD has been slowly grinding its way higher. Towards the end of February there was an attempt to breakout which failed close above the top of the range. This did not result in an immediate move lower. In fact, price actually held up pretty well and made a second attempt to close above the top of the range. That attempt failed as well and resulted in a much sharper decline.
Let's take a look at the chart below and review two concepts.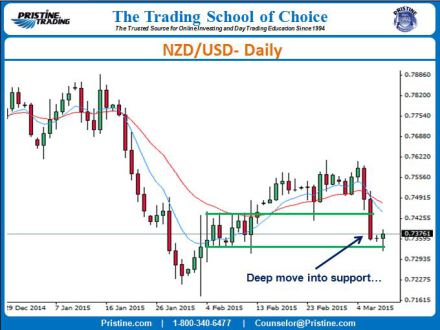 The first concept is how the move lower took place. It was not a slow, steady decline. It was two quick bars to the downside which indicates strong selling and any longs getting out of the way. The decline also penetrated deeply into support, which is the second concept.
The deeper the move into support (or resistance) the more likely price is to move through it. With that said, NZD/USD has pushed all the way to the bottom of the support area. While a short term bounce is likely (and already happening) it is not likely to result in a move all the back to the prior high. In fact, when you consider the weekly pattern (not shown) this analysis is not only further confirmed but also suggests a move to the prior low and lower is likely.
Pristine offers multiple free webinars a month all of which are free. If you are interested you can see our list of upcoming webinars here http://www.pristine.com/FreeEducation/FreeWebinars.aspx
I will personally be doing a Forex webinar tomorrow (March 10, 2015) at 4:15pm ET. If you cannot make it, emailcounselor@pristine.com and ask for a recording!
I look forward to seeing you there!