Value stocks might not be in vogue these days—especially as stocks like Tesla TSLA skyrocket—but nevertheless, investors in search of stability and sound fundamentals might look no further than tech giant Sony SNE as a strong value play.
At a time when growth stocks and companies such as Amazon AMZN are trading at 270x earnings, Sony presents investors who long for low valuation metrics with a great option. Sony sports an "A" grade for Value in our Style Scores system, and maybe more importantly, it is also currently a Zacks Rank #1 (Strong Buy).
This Japanese electronics power is a household name, with a diverse business portfolio that includes everything from televisions to video games to semiconductors. On top of that, Sony is part of an industry that currently ranks in the top 8% of the 265 different industries tracked by Zacks.
Now that we have some of the basics about Sony down, let's dive deeper into some of the company's valuation fundamentals to show value investors what the company has to offer.
Sony Corp Ord Price to Book Value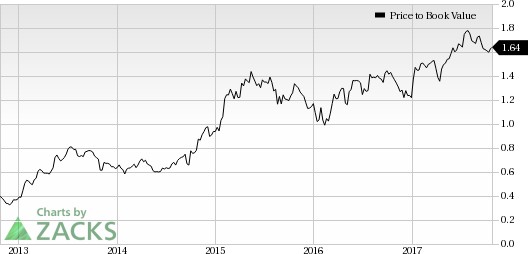 Sony's "A" grade for Value in our Style Scores system is backed up by its 0.67 P/S ratio, which marks a major discount compared to other companies in its industry. The company's P/B ratio of 1.64 also represents a discount against the "Audio Video Production" average.
What's more, Sony is currently trading at just 15.98x earnings, which marks a discount to competitors such as Panasonic PCRFY, as well as the S&P 500 average.
Along with these traditional valuation metrics, Sony's 2.93 cash flow per share ratio tops the "Audio Video Production" industry's negative rate. And as a little side note, Sony crushed earnings estimates in both of its last two quarters, and its shares have surged over 32% this year.
It seems clear that Sony represents strong value for investors. When paired with its current Zacks Rank #1 (Strong Buy) and its overall "A" VGM grade, Sony could be a stock that investors on the hunt for value might want to consider.
Zacks' Hidden Trades
While we share many recommendations and ideas with the public, certain moves are hidden from everyone but chosen members of our portfolio services. Would you like to peek behind the curtain today and view them?
Starting today, and for the next month, you can follow all Zacks' private buys and sells in real time. Our experts cover all kinds of trades: value, momentum, ETFs, stocks under $10, stocks that corporate insiders are buying up, and companies that are about to report positive earnings surprises. You can even look inside portfolios so exclusive that they are normally closed to new investors. Click here for Zacks' secret trades>>
Want the latest recommendations from Zacks Investment Research? Today, you can download 7 Best Stocks for the Next 30 Days.
Click to get this free report
Sony Corp Ord (SNE): Free Stock Analysis Report
Panasonic Corp. (PCRFY): Free Stock Analysis Report
Amazon.com, Inc. (AMZN): Free Stock Analysis Report
Tesla Inc. (TSLA): Free Stock Analysis Report
To read this article on Zacks.com click here.
Zacks Investment Research