Fiserv Inc.'s FISV second-quarter 2017 adjusted earnings from continuing operations of $1.19 per share missed the Zacks Consensus Estimate of $1.23. However, it improved 10.2% from the year-ago quarter.
Total revenue increased approximately 1.7% year over year to $1.39 billion but missed the Zacks Consensus Estimate of $1.42 billion. Adjusted revenues grew 2.2% year over year to $1.32 billion.
Segment-wise, Payments and Industry Products adjusted revenues increased 3.3% year over year to $716 million. Financial Institution Services adjusted revenues were up 1.6% year over year to $623 million.
Internal revenues rose 3% owing to 3% growth each in Payments and Financial segments.
Source-wise, total Processing and services revenues increased 2.3% on a year-over-year basis to $1.19 billion while Product revenues decreased 2% year over year to $200 million.
Lower-than-expected results pulled the company's shares down about 2.5% in the after-hour trading session. Notably, shares of Fiserv have gained 21.7% year to date, slightly underperforming the industry's 23.5% rally.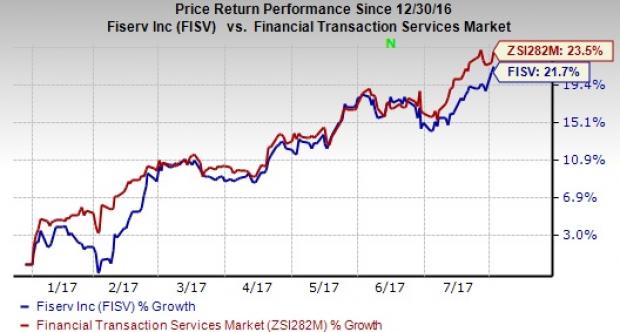 Margins
Adjusted operating income increased 2.7% from the year-ago quarter to $424 million. The company's adjusted operating margin of 32% increased 10 basis points (bps) on a year-over-year basis.
Other Financial Details
As of Jun 30, 2017, Fiserv had cash and cash equivalents of $299 million compared with $308 million as on Mar 31, 2017. Long-term debt at quarter-end was $4.64 billion.
Fiserv's cash from operating activities for the six months ended Jun 30, 2017 was $691 million compared with $687 million in the year-ago period. The company's free cash flow increased to $555 million from $442 million in the year-ago period.
Fiserv bought back 2.5 million shares for $295 million in the quarter.
Guidance
The company reaffirmed its outlook for 2017. Fiserv still expects adjusted earnings per share to come in the range of $5.03–$5.17, representing growth of 14%–17% year over year.
Adjusted internal revenue growth expectation was maintained in the range of 4%–5%.
Fiserv, Inc. Price, Consensus and EPS Surprise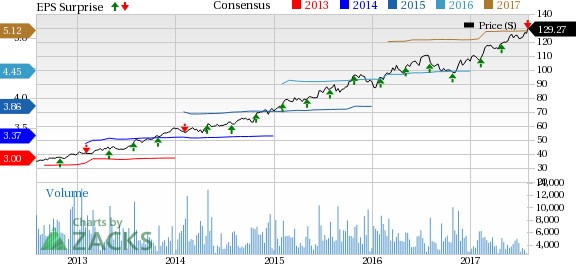 Fiserv, Inc. Price, Consensus and EPS Surprise | Fiserv, Inc. Quote
Our Take
Fiserv commands a leading position in the financial and payment solutions business backed by a broad customer base and key contract wins. Additionally, the strong user base of Mobiliti ASP remains a major growth driver. The company remains focused on expanding its product portfolio. Product-oriented acquisitions are leading to a steady flow of customers.
Investment in digital-oriented technologies is likely to improve its competitiveness. Fiserv's digital banking solutions are gaining momentum among the banks and credit unions. The company is also rapidly expanding in the overseas markets.
Fiserv expects revenues from base solutions like DNA and Agiliti to drive growth. Its new five-year cost cutting program is also likely to prove beneficial. In the second quarter, Fiserv added six DNA clients, four among which have over $1 billion in assets, and expects to add at least 10 more in 2017. Mobiliti ASP subscribers grew 30% to more than 6 million. The company's $40 million savings in the first half of the year was driven by workforce optimization, progress in procurement and data center consolidation.
However, lower termination fees, EMV deferral and adverse foreign currency translations are negatively impacting the company's sales. Moreover, increasing regulations in the banking and financial services industry and intensifying competition from the likes of Equifax Inc. EFX, and Fidelity National Information Services, Inc. FIS remain concerns.
Zacks Rank & Stock to Consider
Fiserv carries Zacks Rank #2 (Buy). You can see the complete list of today's Zacks #1 Rank (Strong Buy) stocks here.
A better-ranked stock in the broader technology sector is Applied Optoelectronics AAOI, sporting a Zacks Rank #1.
Long-term earnings growth for Applied Optoelectronics is projected to be 18.75%.
More Stock News: Tech Opportunity Worth $386 Billion in 2017
From driverless cars to artificial intelligence, we've seen an unsurpassed growth of high-tech products in recent months. Yesterday's science-fiction is becoming today's reality. Despite all the innovation, there is a single component no tech company can survive without. Demand for this critical device will reach $387 billion this year alone, and it's likely to grow even faster in the future.
Zacks has released a brand-new Special Report to help you take advantage of this exciting investment opportunity. Most importantly, it reveals 4 stocks with massive profit potential. See these stocks now>>
Want the latest recommendations from Zacks Investment Research? Today, you can download 7 Best Stocks for the Next 30 Days.
Click to get this free report
Equifax, Inc. (EFX): Free Stock Analysis Report
Applied Optoelectronics, Inc. (AAOI): Free Stock Analysis Report
Fidelity National Information Services, Inc. (FIS): Free Stock Analysis Report
Fiserv, Inc. (FISV): Free Stock Analysis Report
To read this article on Zacks.com click here.
Zacks Investment Research