Wall Street's oil nightmare might be over -- at least for now.
Most Americans love cheap energy, but the crash in oil prices spooked investors. Many feared the meltdown was being caused by sudden economic weakness that other metrics didn't reveal. Investors also worried about a dramatic decline in profits for the energy industry.
Now that oil is showing signs of stabilizing, Wall Street is cheering. The Dow soared 305 points on Tuesday as the slide in oil prices appears to have ended, at least for the moment. After a terrible start to the year, the Dow is now just 2.5% away from all-time intraday highs.
Since sinking below $44 a barrel last week, oil has ripped 19% higher to settle above $53 on Tuesday. That's the biggest three-day spike since January 2009 when the Great Recession neared an end.
"We want the precipitous sell-off to stop. Whether that stops at $35 or $55 is not the issue," said Art Hogan, chief market strategist at Wunderlich Securities.
He said stabilization in this closely-watched commodity is pivotal for market psychology.
"When you see an asset class in free fall, it's hard to get excited about anything else. You're not going to buy stocks because you're afraid falling oil is a barometer for global GDP," Hogan said.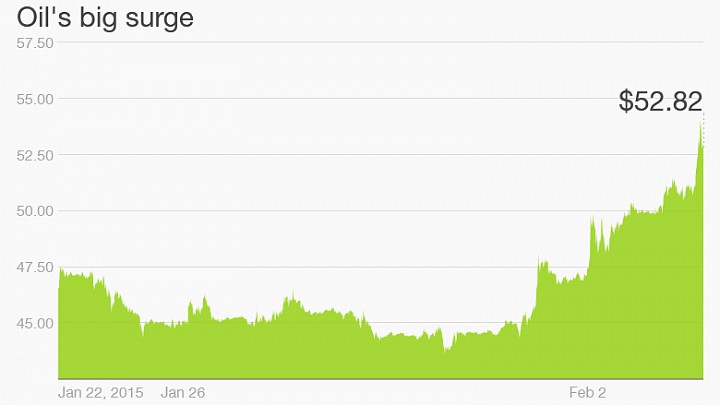 Oil prices have also been boosted by the first large-scale refinery strike in 35 years and the U.S. dollar, which fell sharply on Tuesday against the euro. (Oil is priced in dollars so a cheaper greenback cuts the price for overseas buyers.)
Hogan said it's too early to say whether oil prices have truly bottomed or if this is just a "head fake."
"Energy production isn't like flipping a light switch. Supply response happens in months, not days," he said.
CNNMoney (New York)