Qualcomm is releasing its own VR820 virtual reality headset.
The move is not "risky" at all, as several media outlets have noted.
It could be a low-risk, high-reward venture for Qualcomm.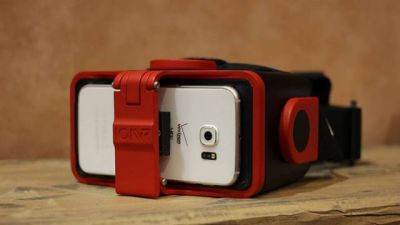 Anyone following the VR space knows by now that Qualcomm Inc. (NSDQ:QCOM) has entered the space with the announcement of its standalone VR820 headset. While it's a positive step in a new direction, with the potential of opening a new revenue stream for the company, many media outlets have termed this development as "risky". It breaks the industry norm and is different from how Galaxy VR and PC-driven headsets operate, and the general perception is that it might not succeed. But what exactly is "risky" about this release? Let's take a closer look to have a better understanding of it all.
Also read: This Low-Risk Opportunity Could Propel Qualcomm Inc. Stock Higher.
Is the new platform risky?
Let me start by saying that there aren't many options in the VR headset space as of now. We have Galaxy VR retailing in the market, which basically requires a smartphone to power it. And there's a second category of headsets which essentially requires us to stay connected to a PC to experience VR. Oculus Rift falls into this category. But the star of our article, Qualcomm's VR820, has its own set of dedicated hardware such as OLED display and computing components to power the headset. Hence, the design philosophy is new.
The thing that's concerning media outlets and industry experts, at least to the best of my knowledge, is that VR820 will be...
More