Corning Inc. GLW recently announced that it has completed the acquisition of scalable small cell systems provider SpiderCloud Wireless. The company will be integrated into Corning's Optical Solutions business.

However, the terms of the deal were not disclosed. According to a recent article by RCR Wireless News, SpiderCloud was worth approximately $200–$250 million or 2.0-2.5 times of 12-month forward revenues.
Small cells are effective in supplementing macro networks to provide superior coverage and capacity indoors as well as outdoors. SpiderCloud's Enterprise Radio Access Network (E-RAN) system uses high capacity enterprise small cells (Radio Nodes) and small cell controller (Services Nodes) to provide reliable coverage as well as massive capacity in indoor environments.

Notably, telecom operators like Verizon VZ and Vodafone VOD recognize E-RAN's expertise in delivering high indoor capacity. SpiderCloud notes that a dual-carrier LTE system with just 24 radio nodes can offer more than 2.5 Gbps of throughput, enough to stream 500 HD video streams. An E-RAN system with 100 radio nodes can do four times as much.

We note that the addition of SpiderCloud will help Corning to offer indoor cellular solutions. The expansion of the company's product portfolio will help it to rapidly penetrate the wireless network equipment market going forward.

Share Price Momentum to Continue

Corning has outperformed the S&P 500 on a year-to-date basis. While the index gained 12.1%, the stock returned 32.2% over the same time frame.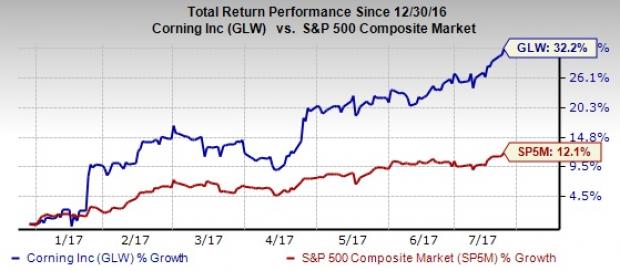 We believe that growing demand for Corning's fiber optics products, as evident from the recent deal with Verizon, is a major positive. Moreover, strong demand for Gorilla Glass 5 (GG5) is a key catalyst.

These along with strategic acquisitions like SpiderCloud, Gerresheimer's Pharmaceutical Glass Tubing Business, Alliance Fiber Optic Products and STRAN Technologies will help the stock continue its momentum in the rest of 2017.
Corning Incorporated Revenue (TTM)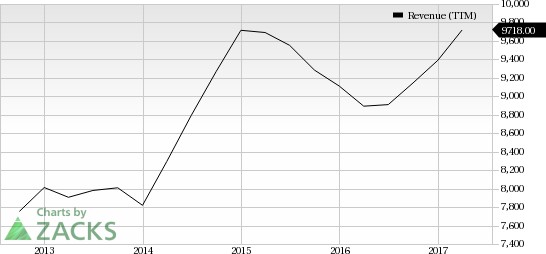 Corning Incorporated Revenue (TTM) | Corning Incorporated Quote
Corning now anticipates sales to grow from $3 billion in 2016 to $5 billion in 2020 through product innovation as well as acquisitions. Notably, management stated that the company is spending on acquisitions, as it looks to expand its total addressable market (TAM).
Zacks Rank & Stock to Consider

Corning currently has a Zacks Rank #3 (Hold).

A better-ranked stock in the technology sector is Applied Optoelectronics Inc. AAOI, which sports a Zacks Rank #1 (Strong Buy). You can see the complete list of today's Zacks #1 Rank stocks here.
The long-term earnings growth rate for Applied Optoelectronics is projected to be 4.1%.

3 Top Picks to Ride the Hottest Tech Trend

Zacks just released a Special Report to guide you through a space that has already begun to transform our entire economy...

Last year, it was generating $8 billion in global revenues. By 2020, it's predicted to blast through the roof to $47 billion. Famed investor Mark Cuban says it will produce "the world's first trillionaires," but that should still leave plenty of money for those who make the right trades early.
Download Report with 3 Top Tech Stocks >>
Want the latest recommendations from Zacks Investment Research? Today, you can download 7 Best Stocks for the Next 30 Days.
Click to get this free report
Verizon Communications Inc. (VZ): Free Stock Analysis Report
Applied Optoelectronics, Inc. (AAOI): Free Stock Analysis Report
Corning Incorporated (GLW): Free Stock Analysis Report
Vodafone Group PLC (VOD): Free Stock Analysis Report
To read this article on Zacks.com click here.
Zacks Investment Research