Chinese stocks are holding on to modest losses in the pre-open as, just as we have been warning, the PBOC weakens the Yuan fix by the most on record. The 1.9% devaluation sends the Yuan to its weakest since April 2013. Gold is leaking lower as the offshore Renminbi collapses by the most since Oct 2011.
PBOC weakens Yuan fix by 1.9% - the most ever...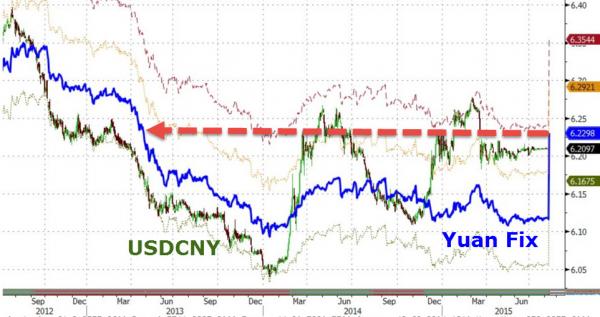 Offshore Renminbi is plunging..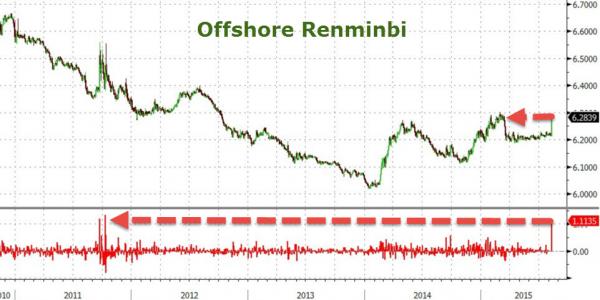 Quite a shocking move, clearly aimed at regaining some competitiveness, one must wonder, given the lackluster response in stocks whether this will merely exacerbate capital outflows... though it does make one wonder who was buying yesterday ahead of the news...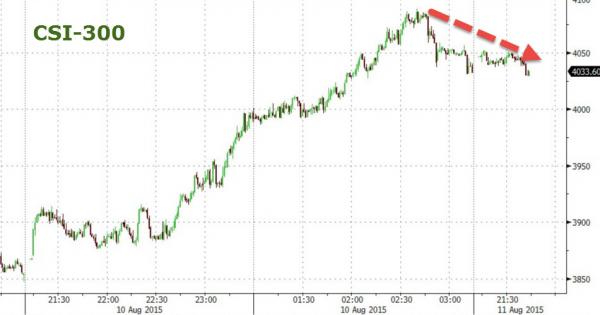 Given The IMF's delay decision, it seems that PBOC has decided maintaining a stable FX rate in the face of collapsing stock market is no longer in its best interest. Although the spin is already out...
*PBOC SAYS YUAN EFFECTIVE FX RATE STRONGER THAN OTHER CURRENCIES
*PBOC SAYS TODAY'S YUAN FIXING IS ONE-OFF ADJUSTMENT
*CHINA TO KEEP YUAN STABLE AT REASONABLE, EQUILIBIRIUM LEVEL
*PBOC SAYS YUAN EXCHANGE RATE DEVIATED FROM MARKET EXPECTATION
Officials say this is a one-off adjustment and we note that USDCNY has been trading 1t around 10 points cheap to the fix for 6 months.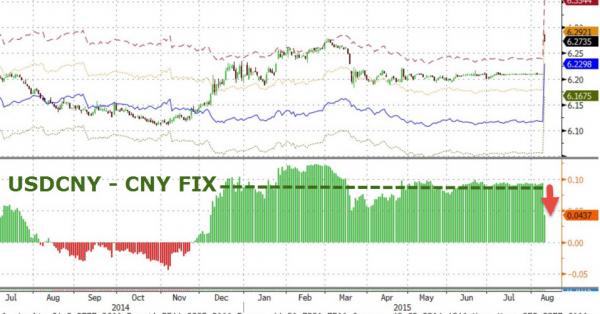 *PBOC PROPOSES TO EXTEND CNY TRADING HOURS
*CHINA PBOC SAYS TO STRENGTHEN MARKET ROLE IN YUAN FIXING
*PBOC TO PROMOTE CONVERGED ONSHORE, OFFSHORE YUAN EXCHANGE RATE
*PBOC SAYS TO CONVERGE ONSHORE, OFFSHORE YUAN EXCHANGE RATES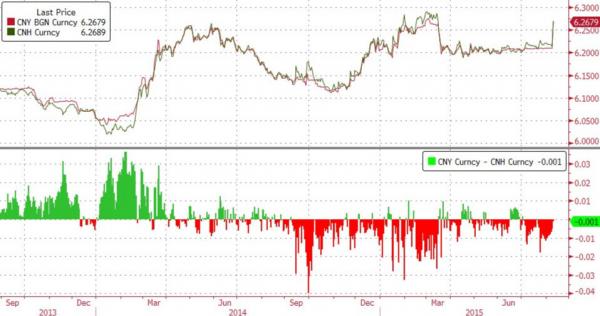 Charts: Bloomberg