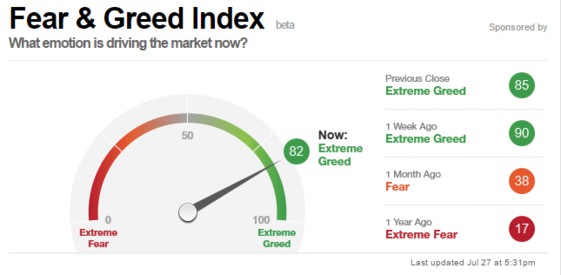 Nothing! 
That's what we got from our Fed yesterday in a statement that held no new action and not indication of when there would be action and nothing is no longer good enough to sustain record high market levels – especially with the very mediocre earnings that are being delivered in the broad markets. 
As you can see from the Fear and Greed Index, the greed is still fairly extreme and the complacency is extreme too with the VIX down under 15 this morning and Treasuries (TLT), which we're short on, are still up at the $140 line post-Fed – as if they still might turn around and loosen further than they already have.  
IN PROGRESS
Provided courtesy of Phil's Stock World.
Would you like to read up-to-date articles on the day they are posted? Click here to become a part of our growing community and learn how to stop gambling with your investments. We will teach you to BE THE HOUSE - Not the Gambler!