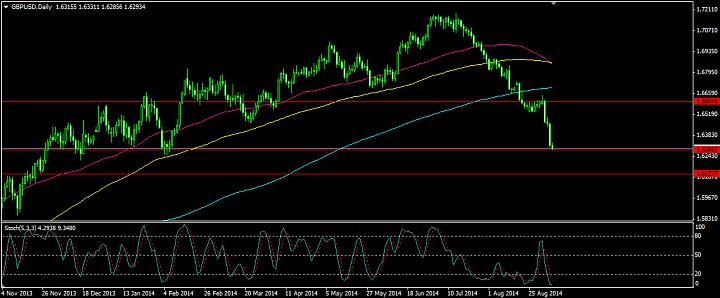 GBPUSD : Daily Chart
GBPUSD continuing its downtrend and currently testing the key support level at 1.6286 which earlier also provided support to the pair. Although there were some weak data yesterday from US like Unemployment Claims and ADP Non-Farm employment change, but the pair didn't rebound and the demand for US dollar continues to be supported. Investors are now looking for Non-Farm employment data releasing today at 8:30 AM EDT which if meets economist's expectation might pressurize the pair break below the key support at 1.6286. The next target support for the pair would be at 1.6127.
US dollar continues to be supported amid the expectations that Fed is going to increase the interest rate sooner than earlier scheduled. That's why the investors are closely looking at the US data for any sign of economic growth which may prompt Fed to do so. On the other hand, the demand of British pound weakened as the Bank of England kept its monetary policy unchanged.