With most of the major US indices near all-time highs, it is interesting to put in perspective how far the markets have come since the last financial crisis.  The US recession began in December 2007 and ended in June 2009, spanning 18 months, according to the US National Bureau of Economic Research.  Each of the major US stock market indices have retraced and surpassed their pre-crisis levels.  Retracement is known as a temporary reversal in the movement of stock prices.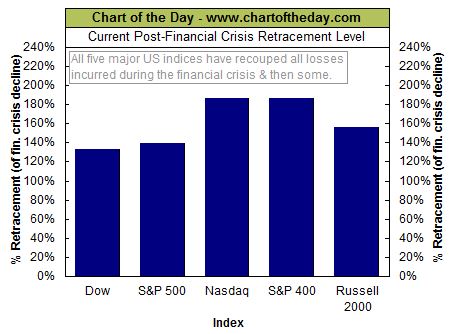 A great example is the S&P 500 which peaked October 9th, 2007 at 1,565.15 and then fell to a low of 676.53 on March 9th, 2009.  The S&P 500 has since recouped and passed its decline for a retracement of 139%. 

As you can see in the chart, all five major US indices have erased the losses from the financial crisis and continued upward.  The Nasdaq and the S&P 400 (mid-cap stocks) have been the best performers, both up 186% since crisis lows.