"Dear 1%"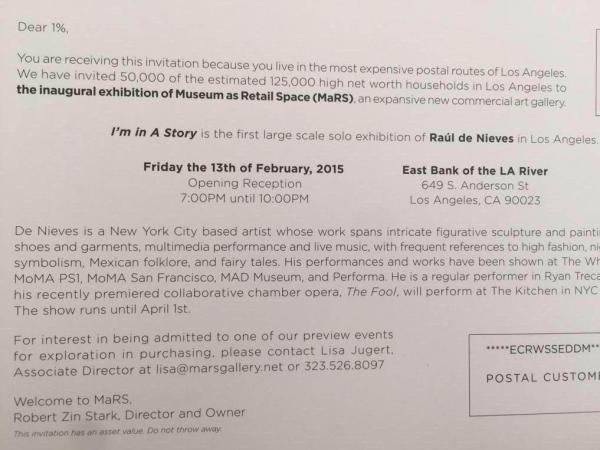 Why would an art gallery go out of its way, so to say, to invite just the "1%"? Simple: because when it comes to what the 1% spend their money on, and where the world's hyperinflation can be found raging without a concern on its mind, there is no better venue than the art market.
Bloomberg explains: "As two weeks of auctions began in London, Sotheby's sale totaled 170.3 million pounds, which was at the high end of its estimate of 121.2 million pounds to 169.2 million pounds. Sotheby's is coming off a record Impressionist and modern art sale that totaled $422.1 million in November in New York. According to New York researcher Artnet, global auctions of Impressionist art set a record in 2014 at $2.4 billion. Sotheby's, which is based in New York, sold 89 percent of the 52 lots at Tuesday's evening sale. In general, works by Auguste Renoir, Camille Pissarro and Alfred Sisley had solid if unspectacular results. Works with estimates below 7 million pounds were vastly more successful."
Pablo Picasso's 13 1/2-inch-tall terracotta sculpture of an owl created in 1953 went for 1.3 million pounds against a high estimate of 450,000 pounds. Picasso's iron and steel maquette -- the model for his sculpture at Chicago's Civic Center -- sold for 8.9 million pounds against a high estimate of 7 million pounds.
A charcoal drawing by Georges Seurat sold for 7.8 million pounds against a high estimate of 7 million pounds, setting a record for the artist for a work on paper. The artwork is a study for Seurat's painting, "Une Baignade, Asnieres," which is in the National Gallery in London. 
A 28 1/8-inch-high sculpture by Auguste Rodin of "The Thinker" sold for 6.3 million pounds, above its 4 million pound high estimate.
A self-portrait by the Russian modernist Kazimir Malevich, valued at 1 million pounds to 1.5 million pounds, was bought for 5.8 million pounds after protracted bidding between one phone bidder and two people in the salesroom.
Among the five Monets -- four landscapes and one still life -- the artist's 1908 view of Venice, "Le Grand Canal," sold for 23.7 million pounds against an estimate range of 20 million pounds to 30 million pounds. It was the top lot of the sale.
"Les Peupliers a Giverny," an 1887 painting of poplar trees sold by New York's Museum of Modern Art, found a buyer for 10.8 million pounds, in line with its estimate of 9 million pounds to 12 million pounds.
"Antibes Vue de la Salis," a morning view of southern France's Riviera that was on offer for 5 million pounds to 7 million pounds, fetched 8.8 million pounds.
Two of Monet's canvases surpassed their high estimates. "L'Embarcadere," an 1871 work of a group of leisure seekers along a canal in Holland that was valued at 7.5 million pounds to 10 million pounds, fetched 10.2 million pounds. A still life of peonies in a vase that was estimated at 1.2 million pounds to 1.8 million pounds sold for 2.3 million pounds.
Among the marquee lots that produced mixed results, Pissarro's "Maison de Paysans," depicting a bucolic country house and gardens, sold at 1.9 million pounds, just below its high estimate of 2 million pounds.
At the other end, Henri Matisse's "Odalisque au Fauteuil Noir," a colorful 1942 portrait of the great granddaughter of the last Sultan of Turkey, sold for 15.9 million pounds against a high estimate of 12 million pounds.
That, dear readers, is what economists call the "wealth effect", and why generations and hundredsf of millions of Americans will slave under tens of trillions in debt, just so a few bored, uber-rich billionaires and soon, trillionaires, can sell, back and forth to each other, piece such as "Les Peupliers a Giverny," an 1887 painting of poplar trees sold by New York's Museum of Modern Art, for 10.8 million pounds.