A huge build in crude inventories started the ball rolling but a sudden "spoofer from above" sent US equities slumping this morning. The Dow and S&P have now joined the Nasdaq in the red...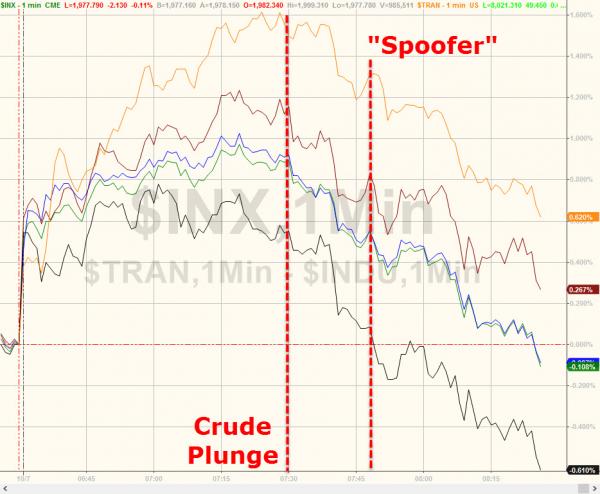 Is "someone" trying to push the market lower? To enable The Fed to stay on hold for longer...
Here's that 2000 contract sell order that chased eMini down at 10:51

https://twitter.com/search?q=%24ES_F&src=ctag

pic.twitter.com/lurKC2ejai

— Eric Scott Hunsader (@nanexllc)

https://twitter.com/nanexllc/status/651776242778288128
Just like we saw yesterday...
Our software isolates testing/spoofing.
A clear pic of an

https://twitter.com/hashtag/HFT?src=hash

test run in eMini this morning

https://twitter.com/search?q=%24ES_F&src=ctag

pic.twitter.com/LMCUogwKIW

— Eric Scott Hunsader (@nanexllc)

https://twitter.com/nanexllc/status/651437060553854980