Chipotle (CMG) has been falling since the first case of food contamination last year. After a persistent run to 757, CMG has lost 47% of its market cap as it trades just above 400. 

CMG 4H Chart 7/18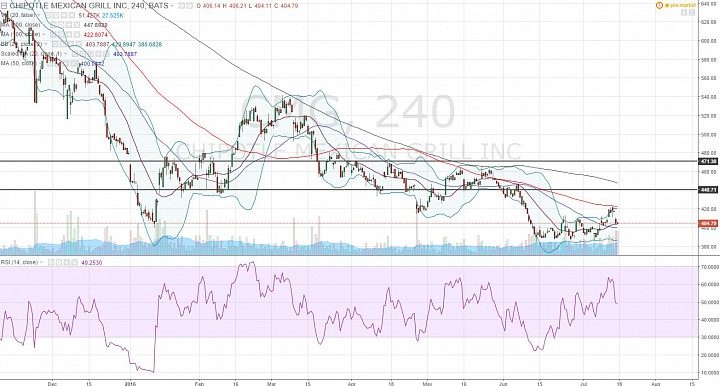 (click to enlarge)
Price bottom attempt: 
The 4H chart shows that CMG has been consolidating around 400 since mid-June. 
This consolidation between roughly 387 and 413 was broken to the upside in July. 
The breakout however is struggling - last week, price cracked 420 before falling back to 405. 
So far this bullish breakout still looks weak:
1) Price is still under the 200- and 100-period simple moving averages (SMAs).
2) The RSI was unable to push to 70. 

400 could be key:
The 400 level could be key as a psychological level, and as the central pivot within the recent consolidation/price bottom. 
A break below 400 could revive the prevailing bearish trend for another 10% dip.  
Respect of 400 as support would suggest that the market is ready for a change of trend in the short to medium-term. 
Respect of 400 as support suggests another possible bullish correction swing to the 440 area. A more aggressive bullish outlook would be towards the 470-480 area. 

Limit the bullish outlook:
I would refrain from a bullish outlook above 500 ie. the 540 high on the year. After all, the prevailing trend coming into 2016 was bearish, and we are only talking about a small price bottom with short-term to at most medium-term implications. 
Indeed, if price eventually breaks above 540, we would likely be back in a long-term bullish mode. But for now, we have to respect the prevailing bearish bias and momentum, and keep any bullish outlook limited. 

Bearish outlook has a challenge too:
When we look at the downside, we migh tsee a challenge below the 2016-low of 387. 
The weekly chart below shows that as price approaches 350-370, there will be a rising trendline to challenge the bearish outlook. 
Also, note that 350-370 involves a support/resistance pivot area.