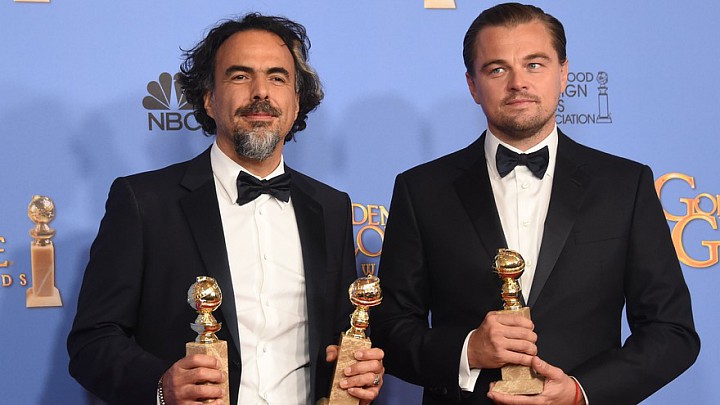 Getty Images
Director Alejandro González Iñárritu, left, and Leonardo DiCaprio show off their hardware for 'The Revenant.'

The 73rd annual Golden Globe Awards brought some focus to an unpredictable awards season Sunday night as films including "The Revenant" and "The Martian" were honored by the Hollywood Foreign Press Association.
"The Revenant," a raw tale of the American frontier, racked up a trio of top awards, including best motion picture drama, beating out leading contenders such as "Spotlight" and "Mad Max: Fury Road." The film also earned a best-actor win for Leonardo DiCaprio. And Alejandro Iñárritu won best director for a punishing production that reportedly pushed cast and crew to their limits.
Twentieth Century Fox's strategy of putting "The Martian" into competition as a comedy paid off with a best-picture win in that category. Matt Damon, whose character delivered one-liners in a virtual monologue from outer space, won best actor in a film comedy.
"Joy" star Jennifer Lawrence collected her third Golden Globe — and her third for a film directed by David O. Russell — for best actress in a film comedy or musical.
Brie Larson won the best actress award for role as a mother held captive with her young son in the drama "Room."
Golden Globe Awards 2016: Red Carpet Review
January in Hollywood means one thing only: Awards season has officially begun. WSJ's Niki Blasina reviews the red carpet fashion from best to...questionable, spotted at the 2016 Golden Globe Awards. Photo: Getty Images.
Sylvester Stallone, who reprised his role as Rocky Balboa in the movie "Creed," earned a standing ovation from the celebrity crowd and a trophy for best supporting actor, nearly 40 years after his Golden Globe nomination for "Rocky."
Closing his acceptance speech, Stallone said, "I want to thank my imaginary friend, Rocky Balboa, for being the best friend I ever had."
'The Revenant' Wins Big at 2016 Golden Globes
"The Revenant," starring Leonardo DiCaprio, took home three major awards at this year's Golden Globes hosted by Ricky Gervais. (Photo: Getty Images)
In the television categories, wins by Amazon and USA Network highlighted the rapid changes in that industry in recent years.
USA emerged from basic cable's B-list, having rebranded its programming with grittier serial dramas. The network's stylish hacker thriller "Mr. Robot" won best TV series drama.
The category for best TV series, musical or comedy has become a proving ground for online shows. Amazon's "Mozart in the Jungle," set in the world of classical music, beat out competitors from Hulu and Netflix and took the trophy a year after "Transparent" earned Amazon its first Golden Globes.
More from MarketWatch