In the 4H GBP/USD chart below, we can see that price found a low on the year in December just a few ticks above 1.19. After that we saw a period of consolidation, followed by a bullish breakout from that consolidation range in November. 
GBP/USD 4H Chart 11/8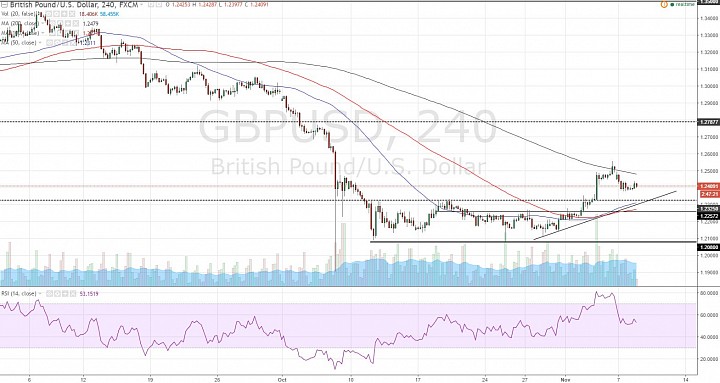 (click to enlarge)
Pullback can extend lower:
- The 4H chart shows the bullish breakout from a range as well as above a falling trendline going back to September's high around 1.3445.
- We can see that after the bullish breakout from range resistance (1.2335), price came up to about 1.2560 before retreating. 
- The pullback is so far testing the 1.24 handle. 
- I think it could still slide further and still be within the context of a bullish market. 
Key support is around 1.23
- That 1.2260-1.2335 area involves many possible support factors. 
- We should monitor this area for buying. 
- If price instead breaks below 1.2250, I would look for another test of the 1.2080-1.21 support area. 
- Otherwise, if price can mostly hold above 1.23, there should still be upside back towards the 1.2560 high, with risk of extending to at least 1.27.