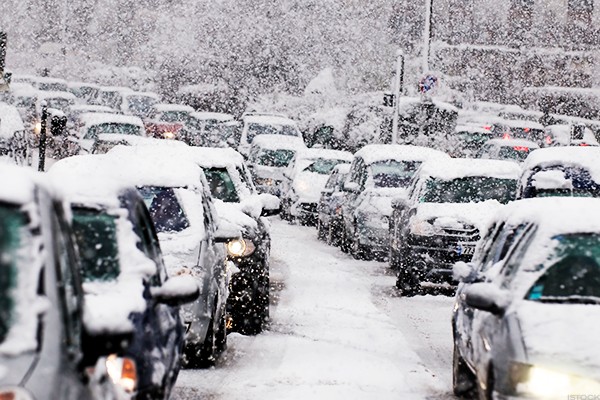 "No winter lasts forever; no spring skips its turn." -- Hal Borlund
Salting the Road
If you live somewhere that sees snowy weather throughout the Winter season, then you know that most municipalities prepare for a coming storm by laying down a layer of salt on the road ahead of time. Bond traders have prepped the road, so to speak, placing some pressure on not only the benchmark U.S. 10-year, but the entire curve in general and the corporate debt space as well. The week ending March 8 saw a net $2.7 billion come out of high yield mutual and exchange traded funds, which was the most aggressive move in that direction since November. Speaking of the U.S. 10-Year Note, that yield hit its highest levels in over two years in yesterday's trade, and has for the most part held the level overnight.
Better economy? The Atlanta Fed's model still has the first quarter tracking at 1.2%, after the fourth quarter came in at a screaming 1.9%, so officially no. Yet, improved numbers in the job space, manufacturing sector expansion over a six-month stretch and January's CPI and retail sales data all point upward. More on that tomorrow morning ahead of the Fed. Then there's corporate earnings, which in aggregate are now on a two-quarter winning streak, and the economy will go nowhere without. So gang, where does this all leave us?
I believe that both equity and debt markets are pricing in an increase of about 3/8 of one percent from where the fed funds rate is now. Fed funds futures markets are fully pricing in a rate hike tomorrow. Also priced in are a better than 50/50 chance for another hike in June, as well as a third increase in December. Of course, it's silly to look that far ahead, but that's what markets do. The point is that these markets either believe that the economy will improve at an increasingly rapid pace, or that the FOMC will significantly change the language in their policy statement. In other words, markets are looking for progress on the federal budget, tax cuts, and the potential infrastructure build, or the removal of the word "gradual" (maybe even an overt attempt to address balance sheet management) from that statement.
Remember Tom Hoenig?
Of course you do. Hoenig is the former regional president of the Kansas City Fed, who actually, in my opinion, had a far better...
More