Yahoo (YHOO) has been bearish since the end of 2014 after it made a 14-year high at 52.62. The weekly chart shows the market slide all the way to 27.20 in September. In October however, it has been showing signs of life.
Yahoo Weekly Chart 10/31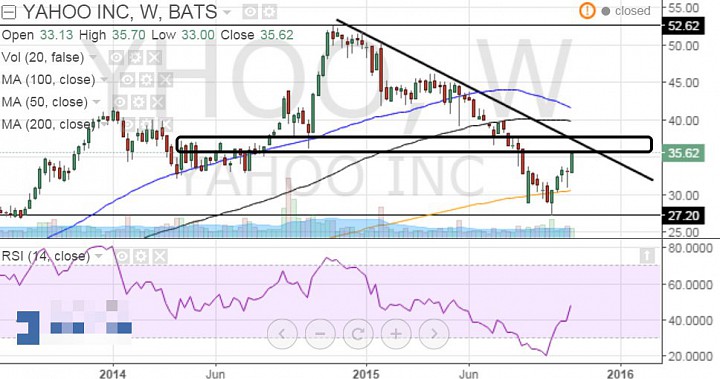 (click to enlarge)
Indeed Octobers price action was at least a squeeze after the weekly chart shows oversold condition and after price tagged the 200-week SMA which was residing around 30.
The next challenge for bulls in this market will be the falling trendline and a previous support/resistance pivot area around 37.50. I think for the current medium-term rally, there is upside risk towards 40. But during this move towards 40, there might still be short-term risk of returning towards 30. If price action shows support around 30 again, we can have more confidence of a move towards 40.
40-42 looks like a key area. Now, if price does come up to 40, or even 42, and the weekly RSI tags 60 and stalls, we should be ready for some bearish outlook ahead. On the other hand, if price pushes above 42, I would extend the bullish outlook to the long medium-term with upside back towards 50.