Standard Chartered's new CEO Bill Winters thinks the bank is positioned well in "markets which will offer outstanding opportunities for decades to come", and while that may be true, the opportunities in those markets didn't prove to be all that outstanding in the first half of the year, as the bank's EM and commodities exposure contributed to a 44% decline in H1 profits. NIM fell 33 bps Y/Y. 
The bank says it needs to better "align its dividends to earnings" which will require a "rebasing" of the payout, which is a really nice way of saying this: "we can't payout as much because we aren't making as much." In any event, the dividend was cut in half: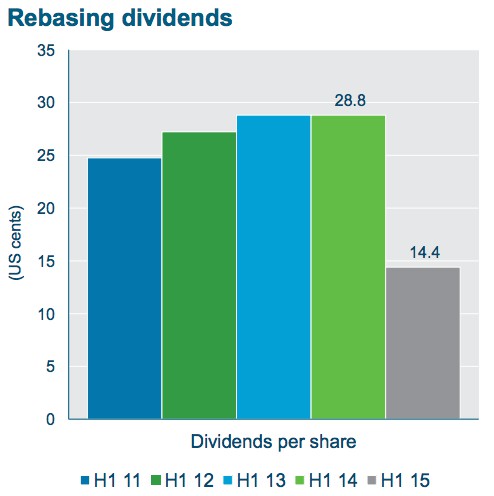 Nevertheless, investors are apparently willing to trade a 50% dividend cut for a momentary reprieve on the "you need to raise capital now" calls, because shares moved higher on the back of news the bank's fully loaded CET1 ratio rose to 11.5% from 10.7%. 
Bernstein's Chirantan Barua, called the dividend cut a "great move and minimizes the probability of a capital raise north of $5 billion in the months to come." For his part, Winters had the following words of wisdom regarding the bank's capital position: "If we decide we need capital .. we will raise capital. If we decide we don't need it, we won't."
Fair enough, but the underlying business looks to be headed down hill in a hurry as the bank is quite clearly the latest example of an EM casualty. For instance, impairments soared, especially among corporate and institutional clients, where "continued weak commodity markets" contributed to a 158% increase. China and India accounted for 64% of those impairments.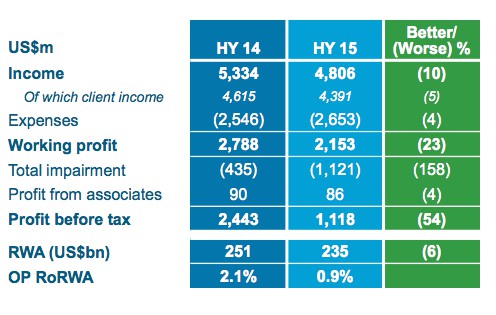 Overall, total impairments jumped $225 million even as the bank struggles to pare down its exposure to plunging commodities. NPLs jumped 16% sequentially. 

Here's Barlcalys with a bit more color:
The miss is due to a combination of significantly worse provisions and weaker net interest income. This is said to be a continuation of previous trends, driven by China, India and commodities, with provisions up 70% YoY and 15% higher HoH and the NPL ratio deteriorating 30bp HoH to 3.1%. However, the capital position has been materially strengthened with a fully loaded CET1 ratio of 11.5% vs 10.7% at FY15. The dividend of 14.4c is 50% below our expectation. So the balance sheet is in much better shape but with a weak P&L. Despite getting well into the previously targeted range, capital targets remain under review, taking into account capital generation and the BoE stress test currently underway (focused on EM). Capital levels will be set with the intention of staying "absolutely and relatively strong through economic cycles" while also absorbing conduct costs – will raise capital if needed for the long-term benefit of the Group, won't if not.