As yet another fed speaker takes the jawboning lectern today, it is becomingly increasingly clear that The Fed truly has only one mandate - to keep stocks up. While claiming to be "data-dependent", which judging by the general trend of government-supplied data (and President Obama), things are going great; Jim Bullard joins his intervention-prone colleague Williams:
BULLARD SAYS BOND PURCHASES SHOULD BE DATA DEPENDENT
and
SAYS 'U.S. FUNDAMENTALS REMAIN STRONG'
but
BULLARD SAYS FED SHOULD CONSIDER DELAY IN ENDING QE.
So much for data-dependence...
*  *  *
And the market loved it... briefly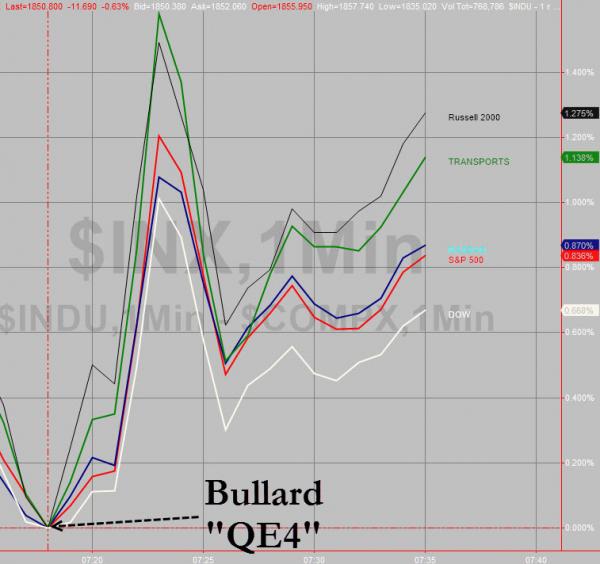 *  *  *
And yet in March 2010, Bullard advocated the end of QE:
 Steve Liesman: Jim, picking up on the Senator's question, what is your preferred way for the Fed to get out? Should the Fed raise rates and keep that $2 trillion balance sheet the same, or should it be selling assets first, and then raise rates?

 

James Bullard: I've been advocating sort of a LIFO policy—last in, first out. You've brought your rates down to zero. Then you substituted quantitative easing for the fact that you couldn't bring rates any lower. Now it seems to me like the natural thing is to withdraw the quantitative easing, and then, at some later point, raise interest rates. But I'm a minority on that, but I'm working on it.
*  *  *
Of course, maybe this is just posturing as Bullard is non-voting until 2016.