Expedia Inc. EXPE reported disappointing third-quarter 2017 results, missing the Zacks Consensus Estimate on both counts.
Earnings per share came in at 51 cents compared with 89 cents in the previous quarter and $2.41 in the year-ago quarter. Earnings missed the Zacks Consensus Estimate by 8 cents.
Revenues of $2.96 billion missed the consensus mark by nearly $40 million but were up 14.7% sequentially and 14.9% year over year. Gross bookings decreased 2.9% sequentially but increased 11% year over year to $22.2 billion.
Expedia shares plummeted 14% in afterhours trading in response to the weak results and lowered EBITDA guidance for full year 2017. Year to date, shares have gained 30.1%, significantly underperforming the industry's rally of 46.9%.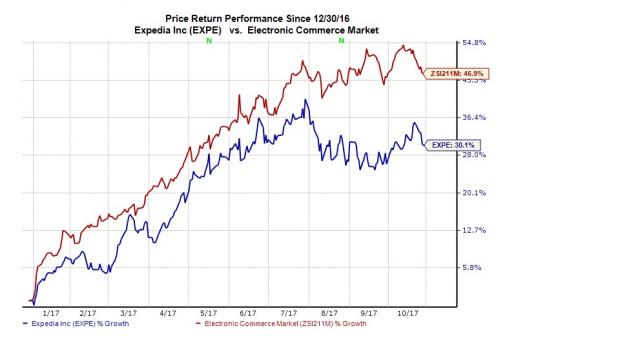 The company's results were adversely impacted by hurricanes that hit in the late August and continued through mid-September.
Let's have a look at the numbers in detail.
Revenues by Segment
Core OTA segment revenues were up 15.2% sequentially and 11.1% year over year to $2.3 billion, driven by growth in room nights.
Trivago revenues increased 3% sequentially and 22.5% from the year-ago quarter to $338 million driven mainly by trivago's traffic and marketplace optimization efforts.
Egencia was down 6.7% on a sequential basis but up 12.5% on a year-over-year basis to $126 million. Growth was driven by the ramp up of Egencia's sales force and increased client acquisitions.
HomeAway was up 36.2% sequentially and a massive 45.2% year over year to $305 million, driven mainly by strong growth conversion rates and transactional revenues.
Core OTA, Trivago, HomeAway and Egencia contributed 78%, 11%, 10% and 4% of gross revenues (before inter-company eliminations), respectively.
Revenues by Channel
Around 53% of total revenue was generated through the merchant business (direct sales), and another 27% came through the agency model (where Expedia operates as an agent of the supplier). Roughly 10% came from Advertising & Media with Home Away accounting for the remaining 10%.
Merchant, Agency, and HomeAway were up 17.4%, 13.3% and 36.2%, respectively while Advertising & Media was down 1% sequentially. On a year-over-year basis, Merchant, Agency, Advertising & Media and Home Away grew 10.8%, 11.1%, 24.1% and 45.2, respectively.
Revenues by Geography
Around 53% of Expedia's quarterly revenues were generated domestically, with the remaining 47% coming from international sources. The domestic business increased 8.2% sequentially and 8.6% from a year ago. The international business grew 23% both sequentially and year over year.
Revenues by Product Line
Lodging revenues (71% of total revenue), which include hotel and HomeAway revenues, increased 15% in the quarter based on a 16% increase in room nights stayed. The increase was driven by growth in Brand Expedia, EAN and HomeAway, partially offset by a 1% reduction in revenue per room night.
Air revenues decreased 7% due to a 10% decrease in revenue per ticket, partially offset by 4% increase in air tickets sold.
The year-over-year growth in advertising & media revenues reflected continued growth in trivago and Expedia Media Solutions. All other revenues increased 21%, reflecting growth in travel insurance and car rental products.
Operating Details
Adjusted EBITDA increased 80.7% sequentially and 6.4% year over year to $709.3 million. We note that Core OTA, Egencia and HomeAway EBITDA increased 3%, 13% and 63%, respectively on a year-over-year basis. trivago declined significantly over the same time frame.
On a sequential basis, Core OTA EBITDA was up 51%. HomeAway was also up significantly. Egencia was down 40% with trivago down significantly.
Operating income as a percentage of revenues was 19% compared with 21% in the year-ago quarter. Total cloud spending was $28 million, up from $9 million from the year-ago quarter.
Balance Sheet
As of Sep 30, cash and short-term investments totaled $3.8 billion, flat as of Jun 30. Net debt balance was $408.3 million compared with net debt of $346.1 million in the previous quarter. So far in 2017, Expedia has repurchased nearly 1 million shares for a total of $139 million.
Full Year Outlook
Expedia lowered its full-year outlook. It now expects adjusted EBITDA growth in mid- to high-single-digit percentage, including cloud spending, compared with the previous expectation of growth of 10–15%. The revised guidance takes into consideration lower EBITDA contribution from trivago in the fourth quarter and nearly $10 million negative impact of natural disasters.
Expedia continues to focus on performance-based marketing channels and boost investments in hotel market management sales force. These will impact margins in the near term. The company expects technology and content expenses to grow slightly slower than revenues in the full year.
Zacks Rank and Stocks to Consider
Expedia has a Zacks Rank #4 (Sell).
Better-ranked stocks in the broader technology sector include Applied Materials, Inc. AMAT, NVIDIA Corporation NVDA and Vishay Intertechnology, Inc. VSH, all sporting a Zacks Rank #1 (Strong Buy).
You can see the complete list of today's Zacks #1 Rank stocks here.
The long-term earnings growth rate for Applied Materials, NVIDIA and Vishay is projected to be 17.1%, 11.2% and 20.6%, respectively.
Wall Street's Next Amazon
Zacks EVP Kevin Matras believes this familiar stock has only just begun its climb to become one of the greatest investments of all time. It's a once-in-a-generation opportunity to invest in pure genius.
Want the latest recommendations from Zacks Investment Research? Today, you can download 7 Best Stocks for the Next 30 Days.
Click to get this free report
Expedia, Inc. (EXPE): Free Stock Analysis Report
NVIDIA Corporation (NVDA): Free Stock Analysis Report
Vishay Intertechnology, Inc. (VSH): Free Stock Analysis Report
Applied Materials, Inc. (AMAT): Free Stock Analysis Report
To read this article on Zacks.com click here.