The GBP/JPY was already strong in June on the back of earlier projections of BoE's rate hike time schedule. BoE Gov. Mark Carney did hint at the possibility of a late-2014 rate hike. Well, he said he was a bit surprised no many has priced in that possibility - whatever that means. 
This week, we saw stronger than expected manufacturing and construction PMIs. The services PMI also showed expansion but was at a 3-month low. However the services employment component grew at record pace.
With that said, it should be no surprise traders pushed GBP/JPY to a new high on the year this week. The daily chart shows a strong bullish market, that has been choppy throughout 2014, but looks ready to continue the uptrend.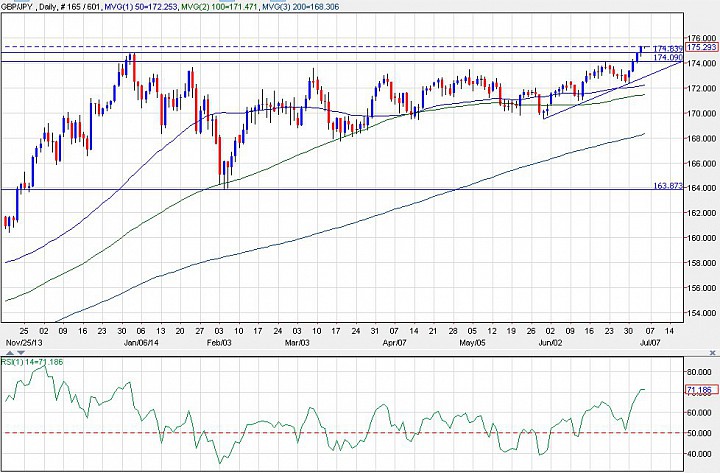 (gbpjpy daily chart, 7/3)
We might see some correction going into Q3 though. The RSI in the daily chart is slightly elevated, but in a trend it can remain elevated for a while. Still, if there is a dip, be ready. There might be traders looking to buy around 173.50-174 area.
A break below the rising trendline from the May low around 169.55 could bring the GBP/JPY back to a significant period of consolidation. Otherwise, we could be looking toward the 180 psychological handle. Remember, we are at highs not seen since 2008, when it was in the middle of an epic slide on the back the financial meltdown.