The UK, after a stronger than expected manufacturing PMI release to open the week, posted a better than expected reading for its construction PMI as well - a gain to 62.6 from 59.4, when expectations called for a 59.3 increase. The data continues the theme of a stronger UK economy, especially when compared to the Euro-zone, and was one of the key factors I mention in my
EUR/GBP idea yesterday
.
Today, let's look at the GBP/USD: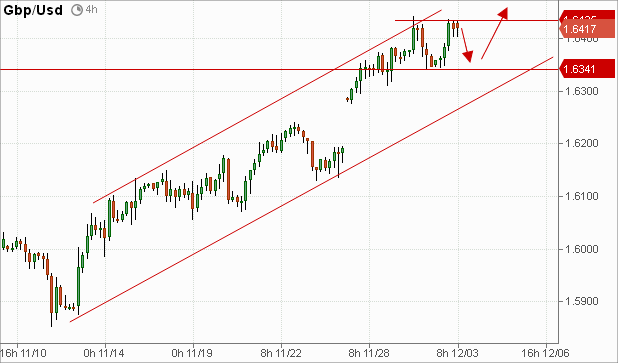 The thing to notice here is that the pair move above resistance at 1.6340 and after rising to 1.6435, moved back down to retest that old level of support as resistance.
We can also see a nice upward channel forming, so my thinking here is that the pair remains in a bullish mode.

Therefore, I may look for any further pullbacks, either to the horizontal pivot at 1.6340 or when price touches the channel support to try and scale in some positions. 
In my last look at the GBP/USD on Friday, I did post a weekly chart in which I showed some key levels to the topside, as well as why the 1.6335 level was so important. I'll reproduce the image below, but click the link for more explanation.