As investors shy away from the technology sector for fear that parts of it are overvalued, Jim Cramer wanted to make the case for three cloud stocks that he believes have more room to run.
"In the last few weeks, stocks of cloud kingpins like Salesforce.com, Workday [and] Red Hat have all pulled back from their highs," the "Mad Money" host said. "The problem with the cloud is very simple: a lot of investors don't understand it because it's fundamentally about the enterprise, companies, not about the consumer, you."
Cramer argued that because most people do not interact with the work these companies do on a daily basis, they tend to mistrust their success. In reality, these giants help even bigger names like Amazon and Netflix save fortunes on hardware, cut overhead and streamline operations.
But rather than explaining these cloud players' fundamentals, Cramer turned to the charts of technician Bob Lang, the founder of ExplosiveOptions.net and Cramer's colleague at TheStreet.com who helps run its Trifecta Stocks newsletter.
"While Salesforce, Workday and Red Hat have all had a very strong year, in the last five-odd weeks they've been hit with a wave of selling," Cramer said. "However, they're now beginning to bounce back, and Lang believes that all three could be ready to resume their runs higher after some modest pullbacks."
The "Mad Money" host started with the daily chart of one of his long-time favorites, Salesforce.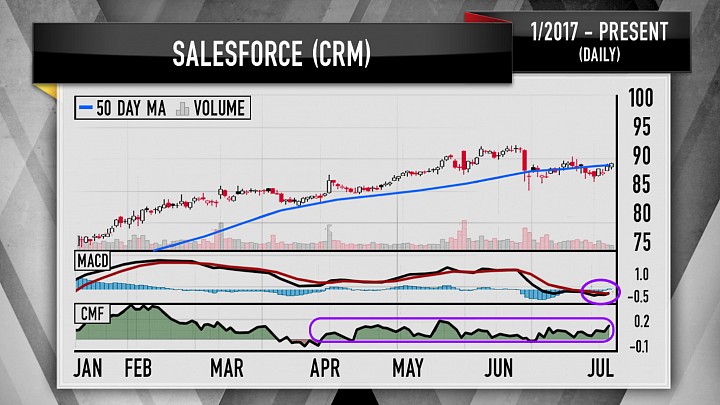 After a healthy run earlier this year, shares of Salesforce took a hit in June, falling 8 percent before finding a floor of support at the...
More