Google Inc. is back under U.S. antitrust scrutiny as officials ask whether the tech giant stifled competitors' access to its Android mobile-operating system, said two people familiar with the matter.
The Federal Trade Commission reached an agreement with the Justice Department to spearhead an investigation of Google's Android business, the people said. FTC officials have met with technology company representatives who say Google gives priority to its own services on the Android platform, while restricting others, added the people, who asked for anonymity because the matter is confidential.
The inquiry is in its early stages, and it could end without a case against the company. Regardless, it shows the FTC is again turning its attention to one of America's biggest companies, two years after it closed a separate investigation into Google's Internet search business. The FTC's handling of the earlier probe left some technology companies skeptical of the agency's willingness to bring a case, according to the people.
Spokesmen for the FTC and Google declined to comment.
EU Investigation
The latest FTC scrutiny comes after Europe's antitrust chief challenged Mountain View, California-based Google earlier this year over its dominance of Internet search. The European Union has also started its own investigation into Google's Android platform following complaints, including from a group representing Microsoft Corp., Expedia Inc. and Nokia Oyj. It isn't clear to what extent EU and U.S. antitrust investigators are cooperating.
Google's Android operating system accounted for 59 percent of the U.S. smartphone market in the second quarter, while Apple Inc.'s iPhone software had 38 percent, according to International Data Corp., a Framingham, Massachusetts-based market research firm. Microsoft's Windows Phone platform was third with 2.35 percent.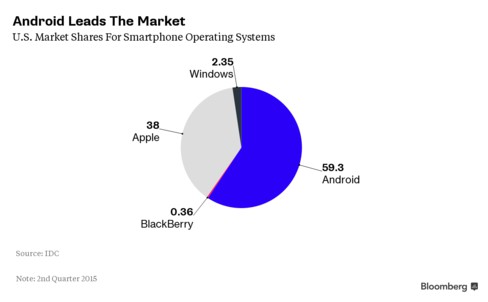 The Android mobile platform ties together several Google products, including search and maps, into one bundle, echoing the even more dominant Microsoft Windows platforms of nearly two decades ago. In 1998, the U.S. claimed Microsoft unlawfully protected its Windows monopoly by keeping computer makers from promoting Web browsers that competed with its Internet Explorer. Microsoft agreed, in a settlement four years later, to end the...
More