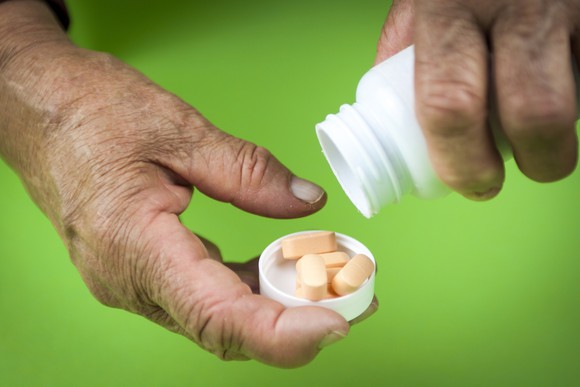 AbbVie's (NYSE:ABBV) Humira reigns as the most successful treatment around for several autoimmune diseases, including rheumatoid arthritis and Crohn's disease. In 2015, the drug generated a whopping $14 billion in sales.
Could Humira be dethroned, though? AbbVie has plenty of rivals working hard to take market share away from the company's top-selling drug. One of those rivals, Johnson & Johnson (NYSE:JNJ), recently announced good news for two of its drugs that target the same indications for which Humira is approved -- and this isn't the only reason AbbVie investors should be nervous.
Rheumatoid arthritis
Johnson & Johnson announced on September 23 that it had submitted sirukumab for FDA approval as a treatment for rheumatoid arthritis. This submission was based on five late-stage studies exploring the safety and efficacy of the drug, which targets cytokine IL-6, a protein that is thought to play a part in causing autoimmune conditions like rheumatoid arthritis.
Three of those late-stage studies, SIRROUND-H, SIRROUND-M, and SIRROUND-T, are already completed. Another study, SIRROUND-D, is scheduled to complete in 2017. The final one, SIRROUND-LTE, a long-term study of patients in two of the other late-stage studies, won't wrap up until 2020.
Results that have been presented so far appear to show that sirukumab is both safe and effective. The key remaining question, though, is how the drug truly stacks up against Humira. The SIRROUND-H study featured a head-to-head match-up of the two drugs. While the...
More