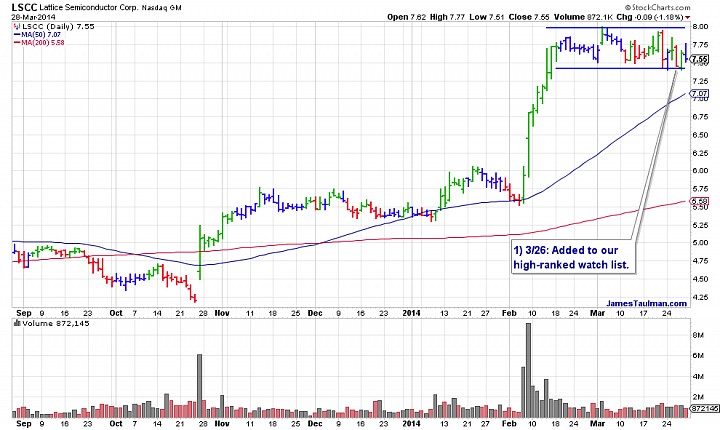 Clearly broke out on Tuesday as shares blasted above the our posted TRIGGERED PRICE of $8.10 while volume made our TRIGGER VOLUME hurdle. This bullish action always flashes our buy signal by default.

Year-over-year quarterly earnings comparisons for Lattice Semiconductor have been increasing. Annual earnings are up from -0.25 cents a share to +0.19 cents. They are estimated to increase +53% and +34% in 2013 and 2014 respectively.
The stock is more poised to move than any bigger cap companies, as LSCC has only 116 million shares outstanding. Institutions already have an interest with a 62% ownership.
Technically, this leader is currently trading just -5% off of new highs it reached earlier in the month. The stock's Relative Strength line has been trending higher since February. Shares have built a rather tight base with an orderly consolidation of a recent run up.
Hails from a great group as it is the same sector as our RMBS and ORBK trades which are doing well.
Any trading above our TRIGGER PRICE while volume is at least on pace to be +50% above average, as that would have it flashing our technical buy signal up to the MAX BUY PRICE.