If you liked it at $83, you'll love it at $66... is apparently the message from Goldman Sachs as last week's transition of Sandisk to the company's "Conviction Buy" list has left clients with a Cramer-esque muppet-hole of around 17% (and rising). One wonders if it is still a conviction buy... or if Goldman should be convicted for selling it to clients...
Goldman on March 17th...
We add SanDisk to the CL given our increased confidence in 2015 S/D and attractive valuation (7% FCF yield) post the pull-back (-18% YTD vs. the SOX +2%).

 

 

We see a 34% total return (vs. the semi median of -3%) to our 12-month, $106 price target on:

 

1) Tight 2015 NAND S/D. Supply: 2H14 NAND SPE orders were very low, implying reasonable near-term supply. Demand: Our checks at MWC suggest the iPhone 6 has helped drive higher NAND per phone at other OEMs.

 

2) We expect gross margins to expand 400 bps by 4Q15 from the weaker yen, mix, and cost reductions.

 

3) There could be longer-term upside from SanDisk's new hyper-scale all flash array product.
Today...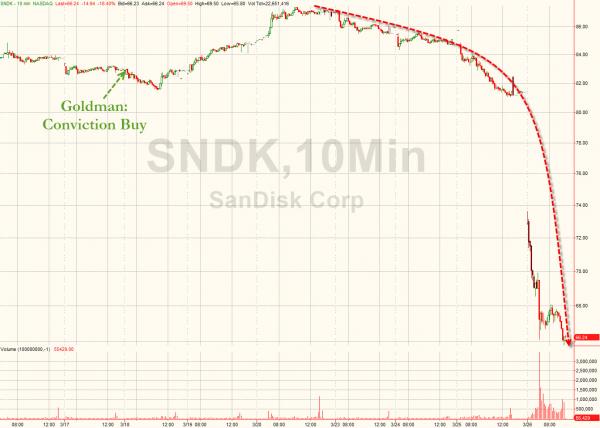 *  *  *