Back in March 2016, Trump trashed the current H-1B visa system, saying "The H-1B program is neither high-skilled nor immigration; these are temporary foreign workers, imported from abroad, for the explicit purpose of substituting for American workers at lower pay."
MY POSITION ON VISAS

https://twitter.com/hashtag/MakeAmericaGreatAgain?src=hash

https://twitter.com/hashtag/Trump2016?src=hash

https://t.co/JGmOd5gr5z pic.twitter.com/OLg6N3Ug9U

— Donald J. Trump (@realDonaldTrump)

https://twitter.com/realDonaldTrump/status/705624889282068480
Of course, as we pointed out a few weeks ago, by far the largest beneficiaries of the current H-1B visa program are large Indian consulting firms like Tata and Wipro.  That said, most of the jobs performed by those companies in the U.S. tend to be on the lower end of the pay spectrum for IT jobs, at least as compared to the ones created by the likes of Microsoft, Google and Facebook.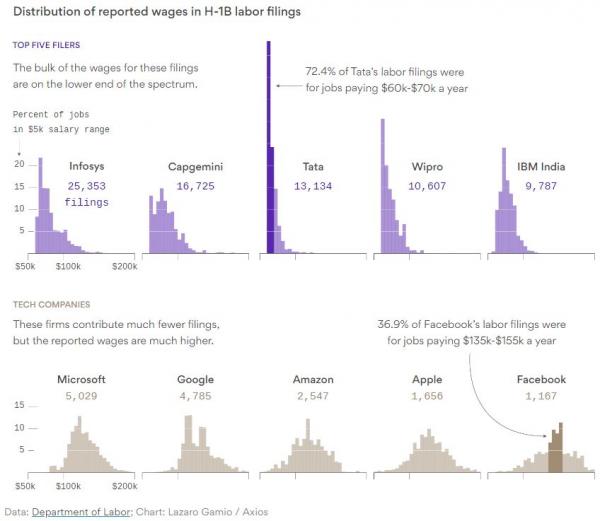 In response, a recently revealed draft of a new Trump executive order related to the issuance of H-1B visas reportedly directs the Secretary of Homeland Security to consider ways to "make the process of H-1B allocation more efficient and ensure the beneficiaries of the program are the best and the brightest."  While that directive could be accomplished in a variety of ways, one likely solution would be to replace the current lottery system with one that prioritizes visas for those earning the highest salaries.   
Now, under pressure from Trump's administration, Indian outsourcing firms are ramping up their lobbying efforts and proactively proposing solutions that the White House may find attractive.  As the Wall Street Journal points out, one such solution would entail setting up trade schools in the rust belt to train U.S. workers to take the jobs that otherwise would have been filled by Indian H-1B visa holders.
Indian information-technology firms are boosting efforts to lobby U.S. lawmakers and are considering ways to train American workers for tasks that Indian workers come to the U.S. to do.

 

Indian outsourcers and U.S. tech firms say the visa program, which Mr. Trump assailed on the campaign trail as "a cheap labor program," is necessary to fill jobs where too few workers with the right skills are available in the U.S. Critics say H-1B visas are used as a cost-cutting method, with firms largely hiring Indians, who are willing to work for less than Americans.

 

Earlier in February, executives from India's biggest IT services firms gathered in New Delhi to discuss a plan to address the skill shortage in the U.S. by setting up schools in the U.S.'s Rust Belt towns to train local workers to do simple IT jobs, according to Shalabh Kumar, an Indian-American businessman, founder of the Republican Hindu Coalition, and Trump fundraiser who coordinated the talks. Leaders from Tata Consultancy Services Ltd., Infosys Ltd. and Wipro Ltd. were among the executives at the meeting, which was partly organized by India's National Association of Software and Services Companies, or Nasscom.

 

The discussion included a proposal to fund new trade schools and collaborations with local universities in the U.S. to teach basic tech skills in two- to three-year programs following high school.
Of course, with 3.7 million people employed by India's various IT services firms, the 'swamp dwellers' of Washington D.C. are collecting their fair share of India's panic bid to save the important industry.
Mr. Modi's meeting underscores the importance of the U.S. to Indian IT services firms, which employ nearly 3.7 million people in India and abroad. The U.S. accounts for some 60% of the sector's revenue, according to Nasscom.

 

A delegation representing Indian IT firms traveled to Washington, D.C., recently to meet officials in the new U.S. administration and others, Nasscom said in a statement, and apprise them of the Indian IT industry's contribution to the U.S. "in terms of jobs created or supported and investments made." Among those who made the trip were CP Gurnani, chief executive of Indian outsourcing firm Tech Mahindra Ltd., and Nasscom President R Chandrashekhar.

 

Nasscom also has been increasingly spending money on pressing Indian IT firms' case with U.S. lawmakers. Federal U.S. lobbying records show Nasscom spent $440,000 last year on services from Washington, D.C.-based lobbying firms Wexler Walker and Arlington, Va.-based Lande Group. That was up from the $350,000 it spent in 2015 on those firms, along with Washington-based BGR Government Affairs. The records show issues the firms were paid to address included "high skill immigration," "visa processing," and other "issues related to immigration."
Whether by luck or a shrewd business sense, it's difficult to argue that Trump's unpredictable style certainly prompts action.