Back on Monday, I wrote about the GBP/JPY in a post title "
Breakout Scenario or Will Range Hold?
".
Well, there has been some serious weakness in the JPY as we come to the end off the week and its really high time for the pair to decide what's next.
Let's have a look at the daily: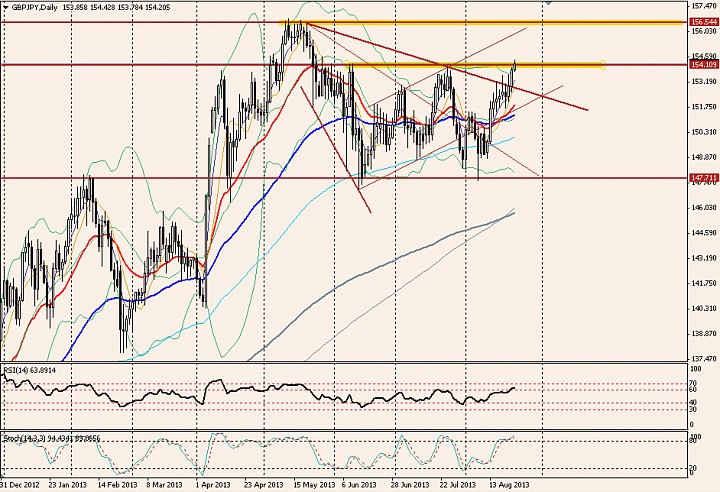 As we can see, the downward sloping trendline that we had been monitoring as one clue was pierced on Monday, rejected on Tuesday, but then overcome in Thursday's global session. We have also now approached and breached the horizontal levels of resistance at 153.95 and 154.15.
This is the key to whether the range we have seen in this pair over the last 3 months (between 147.70 and 154.15) will hold and we start a reversal, or if we can get a breakout and push towards the 156.54 highs.
There is some UK data coming out in Friday's European session including the 2nd release of GDP data, and reports on mortgage approvals, business investment, and services. So, there is certainly potential for catalysts in either direction.
I have been a fan of the UK data of late, so my bias remains bullish here and I will be watching what happens here very carefully. If we have a pullback on disappointing data, but there remains general JPY weakness then we could have the potential to buy on a dip, and that is likely the scenario I want to look for. However, if the data is very positive and we have a bullish break-out, then a retrace to the old level of resistance-turned-support may be the prudent play.
- Nick