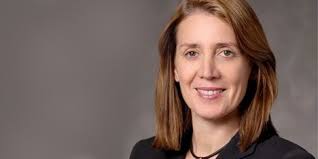 Wall Street just lost its brightest female star to Silicon Valley.
After nearly three decades at Morgan Stanley (NASDAQ:MS) , Ruth Porat revealed plans on Tuesday to join Google (NSDAQ:GOOGL) as its new chief financial officer. That instantly makes Porat one of the most powerful women in the tech world.
Porat was already known as the most powerful woman on Wall Street, an industry that has yet to see its first female CEO. She played a pivotal role during the financial crisis of 2008, leading the Morgan Stanley teams that advised the government on the bailouts of AIG , Fannie Mae and Freddie Mac.
There are very few women serving in a senior management role in finance. A CNNMoney analysis shows that women hold just 53 out of 340 non -CEO senior exe positions  at S&P 500 financial companies. That number will dip to 52 when Porat exits next month.
Porat is no stranger to the tech world either. She grew up in Silicon Valley and later led Morgan Stanley's tech banking franchise during the Internet boom. That means she was the lead banker on countless milestone technology rounds, including ones for Amazon , eBay , Netscape and Priceline.
"I've had the opportunity to experience first hand how tech companies can help people in their daily lives. I can't wait to roll up my sleeves and get started," Porat said in a statement. 
Morgan Stanley CEO James Gorman wrote :
"It is with a heavy heart that we see her go."