Copper was bearish in 2015 but found support and started trading sideways since the start of 2016. The daily chart shows copper turning from bearish to neutral. 

Copper daily chart 7/18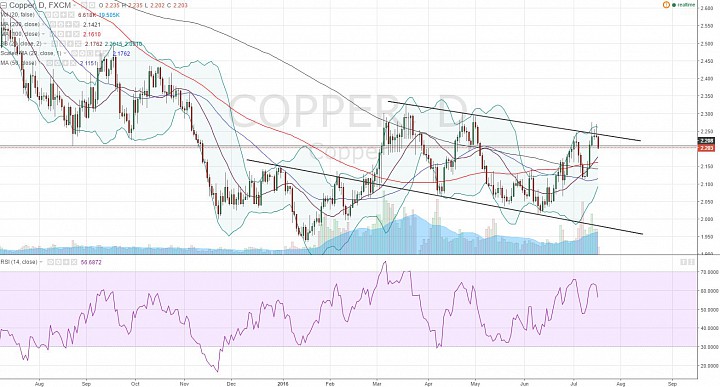 (click to enlarge)

Channel resistance holds: 
Within the current consolidation mode, copper was able to first carve out a price bottom by March. 
Then, after cracking 2.30, it started to whip up and down in a slightly downwards channel.
Price action in June through July so far brought copper back towards the resistance of this downwards channel.
Last week, price threatened to break above the channel, but the market fought it and copper retreated.
The retreat shows a failure by the bulls, and opens up a bearish outlook. 

Neutral-bearish buy scenario:
I think in a neutral market where the prevailing trend was bearish, we should invest in copper at a price  closer to 2.00 and put a stop under the 2016-low ie. 1.2925. 
We are seeing some general pressure in commodities (gold, oil etc.). This adds weight to the bearish scenario in copper.