Activision Blizzard Inc. ATVI recently announced the availability of Call of Duty: Infinite Warfare Absolution on Sony's SNE PlayStation 4. This is the third DLC Map pack after Call of Duty: Infinite Warfare Sabotage and Continuum.

The Absolution pack comprises four new multiplayer maps namely Bermuda, Permafrost, Fore and Ember. The pack also includes a new zombie chapter – Attack of the Radioactive Thing! – that features Cassandra Peterson as Elvira.

Infinite Warfare Sales Unimpressive

Call of Duty is one of the most significant revenue generators for Activision. The Infinite Warfare was launched in November, last year and was the first game of the franchise set beyond the territories of Earth. Makers Infinity Ward also introduced a new zombie chapter – a cooperative gaming mode – to make the game more alluring.

Call of Duty: Infinite Warfare received a metacritic rating of 77. However, the zombie mode and favorable rating didn't helped sales, which were unimpressive compared with prior-year instalments.

Activision Blizzard, Inc Revenue (TTM)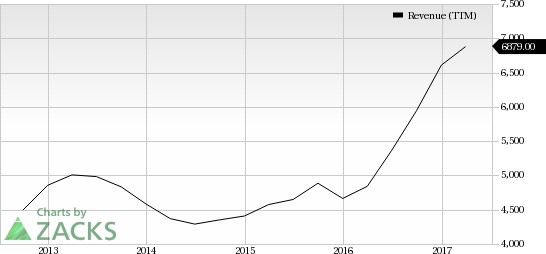 Activision Blizzard, Inc Revenue (TTM) | Activision Blizzard, Inc Quote
Per market research firm Super Data, Infinite Warfare sales in the first month of release were down 27% in comparison with Black Ops III. Moreover, as per latest data from Super Data, Black Ops III sales were better than Infinite Warfare in May 2017, driven by the PS4 release of the "Zombie Chronicles" DLC.

In such a scenario, we believe that the new DLC and the upcoming Call of Duty: WWII set to release on Nov 3 will boost sales going forward.

Robust Portfolio Key Catalyst

Activision's ongoing transition to a full-fledged media-entertainment company is commendable. Apart from launching a movie studio and consumer products division, the company is also strengthening presence in the lucrative e-sports market.

Moreover, Activision's expanding franchise portfolio that include offerings like StarCraft, World of Warcraft, Heroes of the Storm and Call of Duty will drive growth in the long haul. Notably, the company is set to debut Destiny 2 and Call of Duty: WWII later this year over the holiday season. We believe these will be the two big revenue drivers going ahead.

Stiff Competition Hurts Growth

Nevertheless, the higher adoption of free-to-play games and significant competition from the likes of Electronic Arts EA, Take Two Interactive TTWO and Glu Mobile remain near-term headwinds.

Per Super Data, EA's FIFA 17 was the top-selling console game in May, while Call of Duty Black Ops III was a distant fifth. In PC, League of Legends was the top-selling game, while Activision's World of Warcraft was placed sixth.

Activision carries a Zacks Rank #3 (Hold). You can see the complete list of today's Zacks #1 Rank stocks here.
Will You Make a Fortune on the Shift to Electric Cars?
Here's another stock idea to consider. Much like petroleum 150 years ago, lithium power may soon shake the world, creating millionaires and reshaping geo-politics. Soon electric vehicles (EVs) may be cheaper than gas guzzlers. Some are already reaching 265 miles on a single charge.
With battery prices plummeting and charging stations set to multiply, one company stands out as the #1 stock to buy according to Zacks research.

It's not the one you think.
Want the latest recommendations from Zacks Investment Research? Today, you can download 7 Best Stocks for the Next 30 Days.
Click to get this free report
Sony Corp Ord (SNE): Free Stock Analysis Report
Activision Blizzard, Inc (ATVI): Free Stock Analysis Report
Take-Two Interactive Software, Inc. (TTWO): Free Stock Analysis Report
Electronic Arts Inc. (EA): Free Stock Analysis Report
To read this article on Zacks.com click here.
Zacks Investment Research