In true stop-running algo common sense, WTI crude jumped overnight, back above $42 briefly. However, a double whammy of warnings from IEA (of a "massive cushion" of 3 billion barrels worldwide) and the highest volume of supertankers for this time of year since 2013 has sent crude sliding back below $42.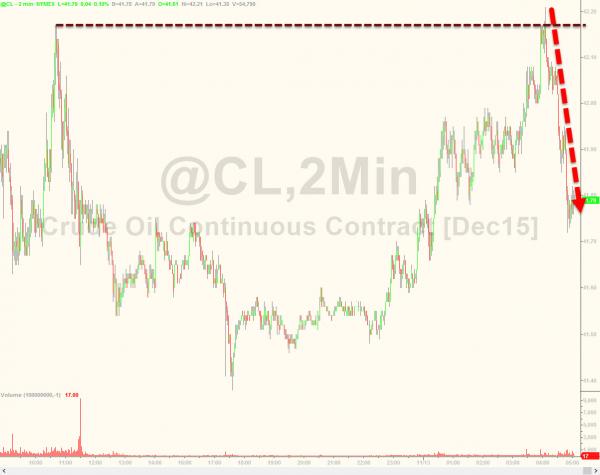 Oil stockpiles have swollen to a record of almost 3 billion barrels because of strong production in OPEC and elsewhere, potentially deepening the rout in prices, according to the International Energy Agency.

 

This "massive cushion has inflated" on record supplies from Iraq, Russia and Saudi Arabia, even as world fuel demand grows at the fastest pace in five years, the agency said. Still, the IEA predicts that supplies outside the Organization of Petroleum Exporting Countries will decline next year by the most since 1992 as low crude prices take their toll on the U.S. shale oil industry.

 

"Brimming crude oil stocks" offer "an unprecedented buffer against geopolitical shocks or unexpected supply disruptions," the Paris-based agency said in its monthly market report. With supplies of winter fuels also plentiful, "oil-market bears may choose not to hibernate."

 

Total oil inventories in developed nations increased by 13.8 million barrels to about 3 billion in September, a month when they typically decline, according to the agency.

 

 

The pace of gains slowed to 1.6 million barrels a day in the third quarter, from 2.3 million a day in the second, although growth remained "significantly above the historical average." There are signs the some fuel-storage depots in the eastern hemisphere have been filled to capacity, it said.

 

 

 

 
And the backlog of SuperTankers continues to surge - to record highs for this time of year...
31 very large crude carriers head to U.S. ports, highest since last May and most for time of year in data going back to 2013, ship tracking information compiled by Bloomberg shows.

 
The stock buffer is bearish and will probably set a lid on how much higher prices can go in 2016," Torbjoern Kjus, an analyst at DNB ASA in Oslo, said by phone. "There's a sizeable risk that we could run totally full," in terms of storage capacity, he said
Charts: Bloomberg