VeriSign, Inc. provides domain name registry services and Internet security worldwide. The company's stock price grew up more than 42% this year, a few days ago the company renewed its 52-week high. Sounds at least interesting, doesn't it? 
<!== INSTRUMENT %% %1440% ==!>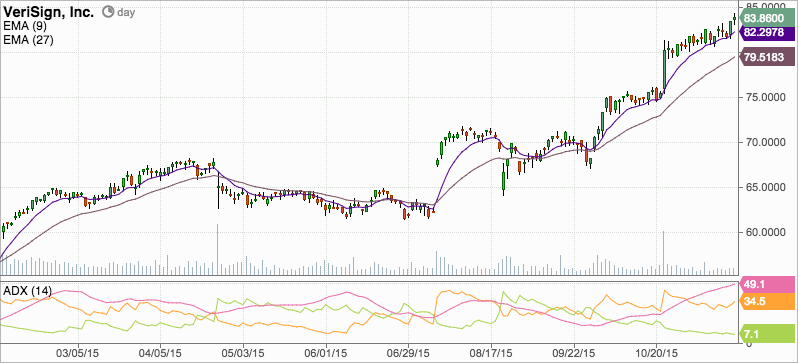 The company announced its Q3 results a couple of weeks ago, so we can see the significant increase there. I would like to check if the company keeps enough potential for further growth or the price is too high already?
The company's financials looks rather promising:
Revenue is growing: 3m ended September, 30 showed +4% in revenue, as well as nine months ended the same date. Most likely, total annual revenue will grow up 4% this year; 
COGS and Operating expenses: 

COGS for 9 months ended Sep, 30 increased by 2%;
VeriSign continues to decrease its marketing expenses, they cut down them by 14% for three months ended Sept 30, 2015 and by 1% for nine months ended Sept 30;
Company reduced total expenses by 1% of revenue - from 44% in 2014 to 43% in 2015;

Interest expenses: the company increased its interest expenses due to the issuance of senior notes in March, 2015 (+13M in interest expenses as of September 2015);
Cash flow: net decrease in cash and cash equivalents dropped down significantly from $105M to $13M.
Fruitful facts about company's financials:
Revenue is growing all over the world, even the currency fluctuations in Europe (euro is moving lower and lower) doesn't affect the revenue growth. Moreover, european revenue grew up 6%, which is more than U.S. based revenue (+4);
Investec Asset Management increased its stake by 16.2% and there is no doubt that the fund is bullish VerSign;
Analysts forecast +5% increase in EBITDA marginality, however, I don't see the base for that. However, I think that the company is able to provide +1-2% in EBITDA margin.
Taking into consideration all the financial information about the stock, I think it seems to be promising. Stable growth of marginality, revenue is growing, so I think that this company worths at least checking it. 
The company doesn't announce any information about dividends, however, net income and marginality of the company is much higher than the industry average. I think that VeriSign's stock seems to be very interesting, but basically I assume that the whole technology market is overvalued. In this case, if the company doesn't meet the analysts' predictions, the stock can drop down significantly. 
In terms of the competition, I think that the company is too big to compete with and I don't actually see, which company can significantly influence the VeriSign's operations.
What do you think about VeriSign?