The AUD/USD is breaking above a falling trendline shown in the 4H chart, that connects the 0.9474 high from July 22, with the resistance pivot of 0.9374 from Aug. 5. The RSI is also breaking above 60 in the 4H chart. These two events are signs that the AUD/USD is turning away from the bearish outlook, but let's not rush into the bullish outlook just yet.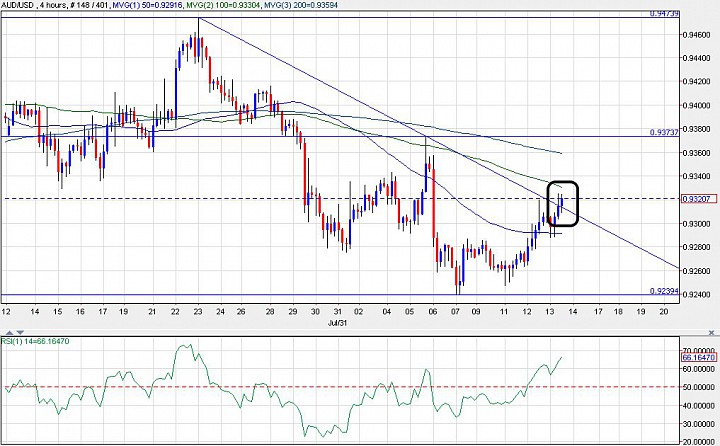 (AUD/USD 4H Chart)
If the RSI pushes above 70, comes back to stay above 40, we can say there is development of bullish momentum. Also, if price can break can break above 0.9360, it would clear above all of the 200-, 100-, and 50-period simple moving averages (SMAs) in the 4H chart. A break above 0.9374 would kill the pattern of lower highs and lower lows. These events would introduce the bullish outlook. When you look at the daily chart, you will see that this is a bullish continuation signal as well for the medium term.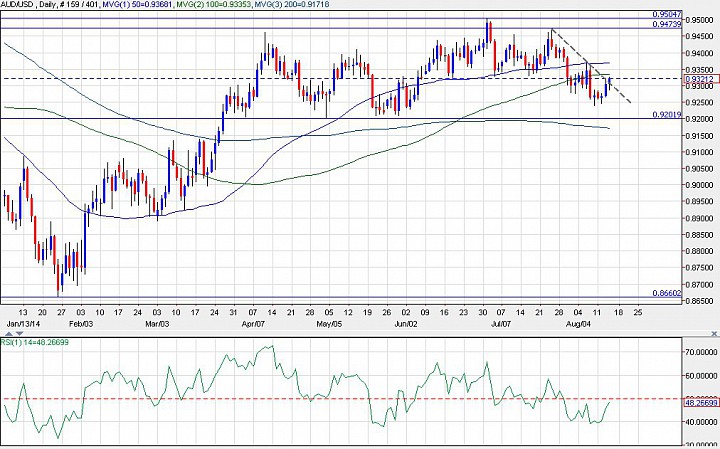 (AUD/USD Daily Chart)
The daily AUD/USD chart shows a bullish market that has turned sideways. However as long as price is above 0.92, the bearish outlook is shelved. The market is at least neutral-bullish. 
Today's bullish breakout tips it toward the bullish side, signaling bullish continuation. Note that the daily RSI has held above 40 for the most part since tagging 70 in April. This reflects maintenance of the bullish momentum. 
The bullish continuation scenario first opens up the 0.9474 and 0.9505 highs, with risk of breaking even higher. 
Earlier, I noted that a break above 0.9375 could introduce a bullish outlook. On the daily chart, you can see that this event would also break above the 50-day SMA, at which point price would be also above the 100-, and 200-day SMAs. That would be another bullish continuation signal.
Another sign for the bullish outlook would be if there is a pullback, but price can hold above 0.93, given a little elbow space in the near-term of course.
So, are we ready to buy on dips?