Despite recently major newspapers such as 'The Washington Post' sold to Amazon Founder Jeff Bezos and 'The Boston Globe' sold to Red Sox owner John Henry, "The New York Times is not for sale", the paper's chairman, Arthur Sulzberger Jr., said.
The New York Times Co. (NYSE:NYT) operates as a global, multimedia news and information company, which includes publishing newspapers, digital businesses, investments in paper mills and other investments. The company operates through two divisions: New York Times Media Group, which operates The New York Times, and New England Media Group, which formerly owned The Boston Globe.
"The Times is not for sale, and the Trustees of the Ochs-Sulzberger Trust and the rest of the family are united in our commitment to work together with the Company's Board, senior management and employees to lead The New York Times forward into our global and digital future," Sulzberger Jr. said in the statement.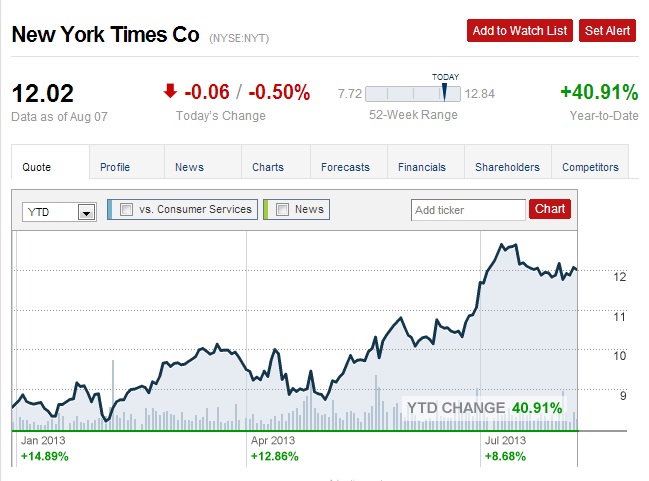 Chart Source: cnnmoney.com
For the stock performance, the price increases 40.91% year to date, and the closing price on Wednesday is $12.02. However, the earnings growth this year decreases 9.88% and the earnings growth for the next 5 years is expected to decrease 5.80%. 
Due to the digital age, the newspaper industry, both in the United States and other developed markets, is facing the biggest challenge to make business profitable. More consumers use their computers, smartphones and tablets for news update.
What do you think about the future of New York Times and other newspapers? What can business do to survive in this tough situation?