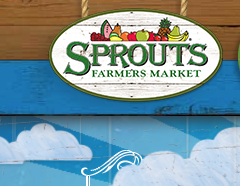 Sprouts Farmers Market (SFM) reported Q1 results that have the stock trading down 9% in early trading. Despite solid comp sales growth of nearly 5%, the company actually missed revenue targets by a wide margin. 
Net sales of $993.2 million; a 16% increase from the same period in 2015
Comparable store sales growth of 4.8% and two-year comparable store sales growth of 9.5%
Net income of $46.2 million and diluted earnings per share of $0.30
Diluted earnings per share increased 20% from adjusted diluted earnings per share the same period in 2015 
The ironic part is that competitor Whole Foods Market (WFM) is up over 4% on a decrease in comp sales. While Sprouts Farmers Market remains a favorite long-term play, my initial take is to stay on the sidelines as the 365 strategy from Whole Foods appears a direct target at Sprouts. 
Disclosure: No position