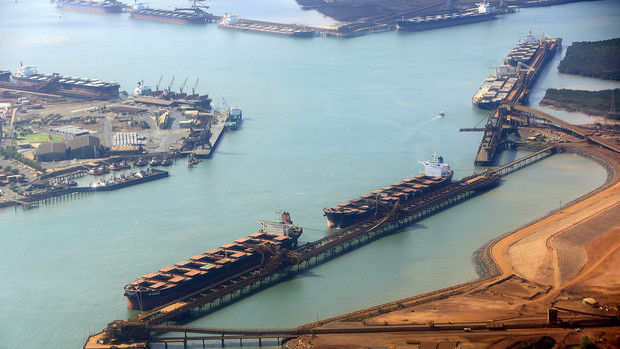 Photographer: Sergio Dionisio/Bloomberg
Bulk carriers are loaded with iron ore at the ship loading facility
Global iron ore suppliers are locked in a battle for market share as a surplus expands, according to UBS AG, which cut price forecasts for 2015 and 2016 while sticking with a call for an end-of-year rally this quarter.
The steel-making raw material will average $85 a metric ton in 2015 and $82 in 2016, analysts including Daniel Morgan said in a report received today. Previously, the outlook for both years was an average of about $103 a ton. Iron ore will rally toward $100 this quarter as mills restock, the bank said.
Iron ore tumbled 39 percent this year after companies including Rio Tinto Group (RIO), BHP Billiton (BHP) Ltd. and Vale SA raised low-cost output in Australia and Brazil, spurring a glut. The global market is in the midst of a transition without precedent in recent commodity history as supply surges and some higher-cost mines are displaced, according to Macquarie Group Ltd.
"The iron ore game has changed from a growth opportunity into a battle for market share," the UBS analysts wrote. "Seaborne producers will try to displace high-cost domestic supply in China, but a core will likely remain competitive. The majors also continue their aggressive expansion plans."
Ore with 62 percent content delivered to Qingdao, China dropped 1.5 percent to $82.55 a ton yesterday, according to data from Metal Bulletin Ltd. The price fell to $77.97 on Sept. 29, the lowest level since September 2009.
'The Winners'
"In a declining price environment, the winners should be those with high-quality ore, delivered at low cost to China," the analysts said. "Here the majors Rio Tinto and BHP Billiton appear best placed."
Global seaborne output will exceed demand by 26 million tons this year and 41 million tons in 2015, according to UBS. The glut is seen at 105 million tons in 2016 and will rise to 223 million tons by 2018, according to the bank.
Fortescue Metals Group Ltd. (FMG) said today that shipments rose 66 percent in the three months to Sept. 30 as it expanded output from Western Australia mines. The world's fourth-biggest exporter expects to ship 155 million to 160 million tons in the year through June, it said.
"Stocks in China are reducing, which demonstrates that demand is outstripping supply and demonstrates that there's been a lot of high-cost production that has already left the market and continues to leave," Fortescue Chief Executive Officer Nev Power told reporters on a conference call today. "That will continue to happen, albeit it is happening slower than I think most of us in the industry expected."
Average Price
The Perth-based producer achieved an average price of $71 a ton in the period as its products trade at a discount to the benchmark price, it said. The company's focus is on continuing to reduce costs, Power told reporters.
Rio Tinto, the second-biggest producer, forecast shipments of 300 million tons this year, including output attributable to project partners, the company said in an Oct. 15 statement. The industry's fundamentals remain strong, Chief Executive Officer Sam Walsh told reporters yesterday.
Australia and Brazil, the largest suppliers, will raise their combined share of global seaborne supply from 73 percent last year to an estimated 90 percent by 2020, according to an Oct. 14 report from Macquarie Group.
Iron ore was listed by Morgan Stanley as its least-preferred metal after gold, according to a quarterly report on Oct. 8 that highlighted global oversupply. The raw material may average $100 a ton this year and $87 in 2015, the bank said.
Prices are seen staying weak for a sustained period as production increases and China's economyslows, according to Tom Albanese, former head of Rio Tinto. The Asian economy is the world's largest iron ore buyer.