Allergan plc AGN has announced encouraging results from a pooled analysis of two phase III studies, evaluating the efficacy and safety of its marketed drug Viberzi (eluxadoline) for treatment of adults suffering from irritable bowel syndrome with diarrhea (IBS-D).

Notably, the drug is already marketed across Europe and the U.S. as a twice-daily, oral dose for treatment of IBS-D. Additionally, in May 2017, the drug was also approved of in Canada for the given indication.

Allergan's shares have impressively outperformed the Zacks classified Medical-Generic Drugs industry so far this year. The stock has increased 14.9% compared with the broader industry's decline of 2.5%.





The pre-specified prospective pooled subgroup analysis from the two phase III studies (IBS-3001 and IBS-3002) was conducted on nearly 2,500 IBS-D patients. Of these, 36% reported use of loperamide -- a medicine indicated for treatment of diarrhea -- in the 12 months prior to the trial.

Data from the study demonstrated that Viberzi safely and effectively treats the IBS-D symptoms of abdominal pain and diarrhea, irrespective of prior use of loperamide. These results were published in The American Journal of Gastroenterology.

It is significant to note that Viberzi has performed above expectation in 2016 with the trend continuing in 2017. However in Mar 2017, the FDA had issued a warning regarding the increased risk of serious pancreatitis associated with the use of Viberzi in patients without a gall bladder. This alert could dent Viberzi's sales in future.

The drug may also face competition from Valeant Pharmaceuticals International, Inc.'s VRX Xifaxan, which is marketed for the same indication.

We remind investors that Allergan already markets another irritable bowel syndrome drug called Linzess. The company along with its partner, Ironwood Pharmaceuticals, Inc. IRWD markets Linzess for the treating irritable bowel syndrome with constipation (IBS-C). Allergan is currently evaluating Linzess for better treatment of IBS-C by targeted delivery through delayed release.

It is important to make a note that competition in the IBS-C market has intensified with the FDA approval of Synergy Pharmaceuticals Inc.'s SGYP Trulance in Jan 2017.

Per the company's press release, approximately 16 million adults worldwide are estimated to be affected by IBS-D. Sad but true, the treatment options currently available in the medical market are not up to satisfactory levels for many patients since they complain of debilitating symptoms associated with the disease. Given such conditions, Viberzi has a significant growth opportunity in near future.
Allergan PLC. Price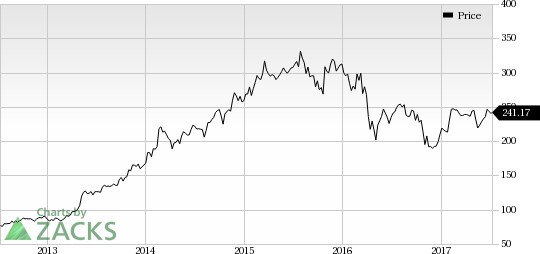 Zacks Rank
Allergancurrently carries a Zacks Rank #2 (Buy). You can see the complete list of today's Zacks #1 Rank (Strong Buy) stocks here.
More Stock News: 8 Companies Verge on Apple-Like Run
Did you miss Apple's 9X stock explosion after they launched their iPhone in 2007? Now 2017 looks to be a pivotal year to get in on another emerging technology expected to rock the market. Demand could soar from almost nothing to $42 billion by 2025. Reports suggest it could save 10 million lives per decade which could in turn save $200 billion in U.S. healthcare costs.
A bonus Zacks Special Report names this breakthrough and the 8 best stocks to exploit it. Like Apple in 2007, these companies are already strong and coiling for potential mega-gains. Click to see them right now >>
Want the latest recommendations from Zacks Investment Research? Today, you can download 7 Best Stocks for the Next 30 Days.
Click to get this free report
Allergan PLC. (AGN): Free Stock Analysis Report
Ironwood Pharmaceuticals, Inc. (IRWD): Free Stock Analysis Report
Valeant Pharmaceuticals International, Inc. (VRX): Free Stock Analysis Report
Synergy Pharmaceuticals, Inc. (SGYP): Free Stock Analysis Report
To read this article on Zacks.com click here.
Zacks Investment Research