S&P 500 Index has gained an average of 0.2% in May, positive in 28 of the past 50 periods.
**NEW** As part of the ongoing process to offer new and up-to-date information regarding seasonal and technical investing, we are adding a section to the daily reports that details the stocks that are entering their period of seasonal strength, based on average historical start dates.   Stocks highlighted are for information purposes only and should not be considered as advice to purchase or to sell mentioned securities.   As always, the use of technical and fundamental analysis is encouraged in order to fine tune entry and exit points to average seasonal trends.
Stocks Entering Period of Seasonal Strength Today: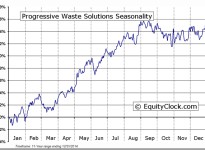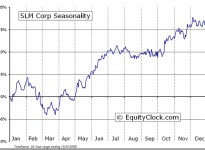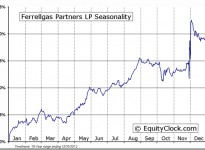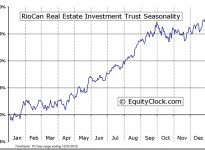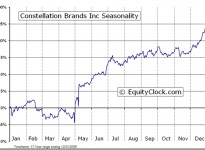 The Markets
Stocks traded lower on Friday, following through with the weakness that began on Thursday following remarks from billionaire investor Carl Icahn.  The S&P 500 Index fell by just over 1% at the lows of the session, testing the 2050 target that was implied by the head-and-shoulders topping pattern on the hourly chart of the large-cap benchmark.  The index broke firmly below its 20-day moving average, a level that has been maintained as a short-term level of support since the February lows.  A number of levels of support directly below should now be looked upon as potential propping points, including the 50 and 200-day moving averages and horizontal support around 2040.  Resistance has become confirmed at the highs charted in the fourth quarter around 2110, representing a critical hurdle in the way of new highs.  Momentum indicators continue to roll over as the benchmark struggles with resistance overhead.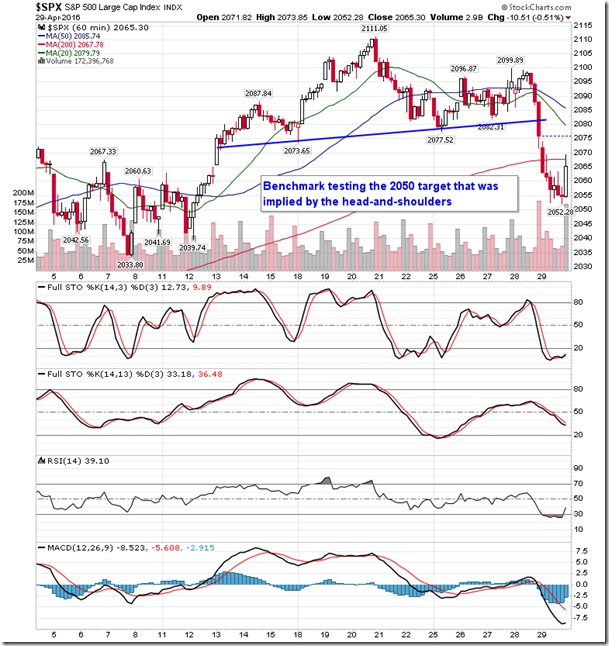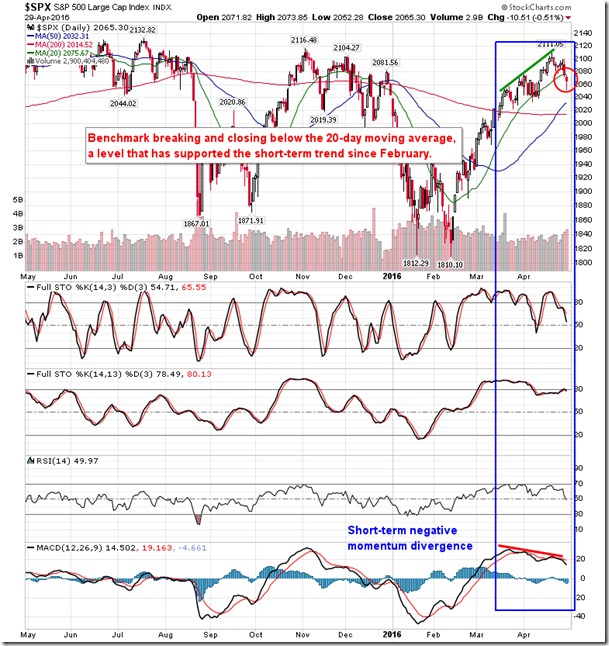 For the month of April, the S&P 500 Index ended predominantly flat, gaining a mere 0.27%.  This is a far cry from the average gain for April of 1.5%, based on data from the past 50 years.  Year-to-date, the benchmark is higher by a mere 1.05%, also below the average increase through the first four months of the year of 3.78%.  Looking at the monthly chart of the widely followed index, the long-wick candlestick emphasizes the resistance that investors had to contend with intra-month.   The benchmark is presently hovering around its 20-month moving average, also a level that has provided support characteristics over recent history.  Add it all together, with support directly below and resistance directly overhead, a trading range is implied.  The market continues to wait for a catalyst, either positive or negative, to break out of what has become a long-term range.  Reaction to earnings, thus far, has not been overly optimistic, despite 74% of S&P 500 companies reporting earnings above the mean estimate, according to Factset: on the revenue side, only 55% of companies have reported results above the consensus estimate.  With almost two-thirds of results in, analysts will begin to scrutinize forward estimates in an attempt to better understand growth potential for the year ahead.  As of present, the forward P/E for the S&P 500 index sits at 16.8 (16.2 if you exclude energy), which takes into account an EPS estimate for the next four quarters of just under $123.  Analysts are expecting that to rise to $135.36 in 2017, or approximately a 10% gain over present levels.  If analysts can firm up on those numbers and assuming no multiple expansion beyond 17, the large-cap benchmark could see upside potential of 2300 by year-end.  That remains overly optimistic.  Keep in mind, however, the analyst estimates have been continuously revised lower, quarter-after-quarter, for some time, suggesting more of the same should be expected.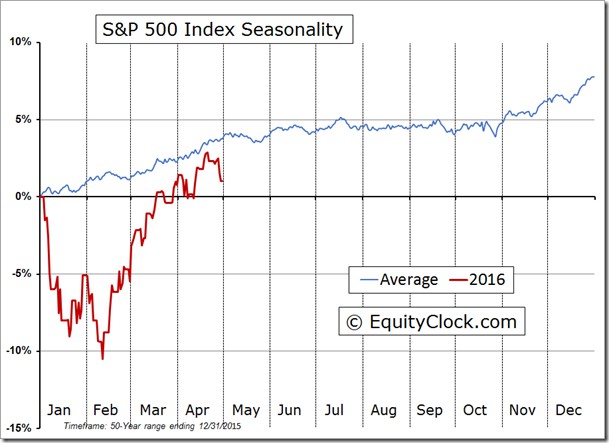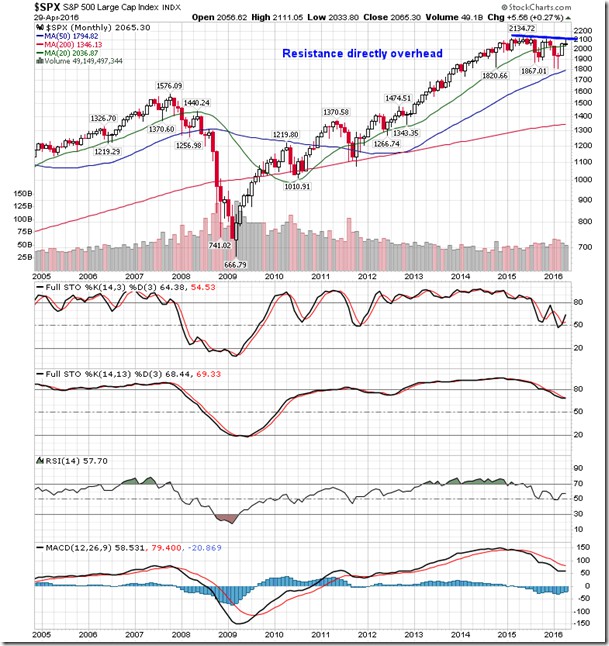 Looking forward to the month of May, the S&P 500 Index has charted a rather flat result in this month that has coincided with the conclusion to the period of seasonal strength for stocks.  The benchmark has gained an average of 0.2% in May over the past 50 years; positive results were realized in 56% of periods.  Top performing sectors in this fifth month of the year have been consumer staples and health care, gaining an average of 1.7% and 0.9%, respectively.  The only sector to have averaged a loss in this period is Materials, down by 0.1%, based on data from the past 20 years.  Consumer discretionary, industrials, and materials all reach an average peak around the start of the month, declining, on average, through the end of summer.  May is typically a transition month where risk assets fall out of favour as investors rotate towards defensive areas ahead of the summer volatility in equity markets.
S&P 500 Index Monthly Average Returns: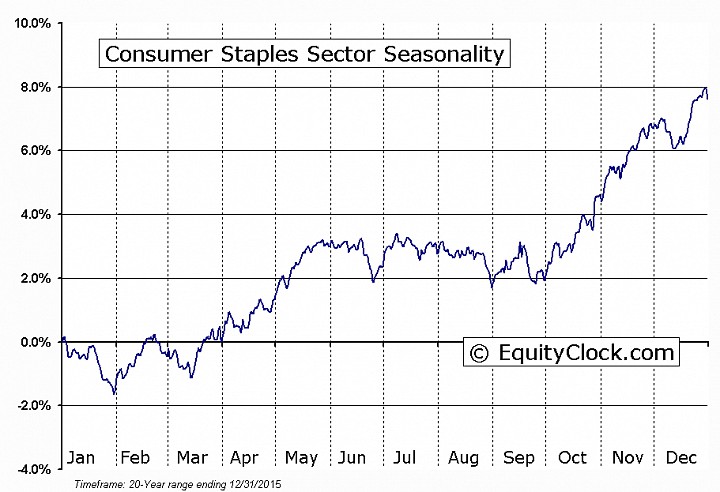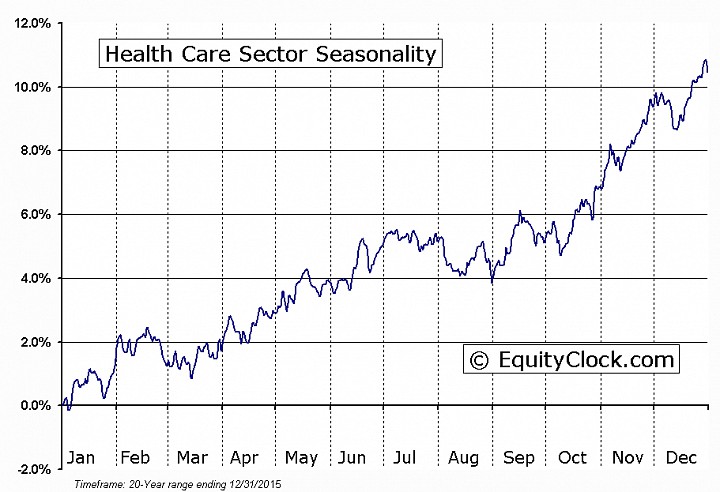 According to the seasonal chart database, accessible at http://Charts.EquityClock.com, stocks entering their seasonally strong period in the month ahead include Alimentation Couche-Tard Inc (TSE:ATD.B), Scholastic Corporation (NASDAQ:SCHL), Oracle Corporation (NASDAQ:ORCL), Canadian REIT (TSE:REF.UN), and Constellation Brands, Inc. (NYSE:STZ).  These are generally defensive names with betas that, for the most part, are less than 1.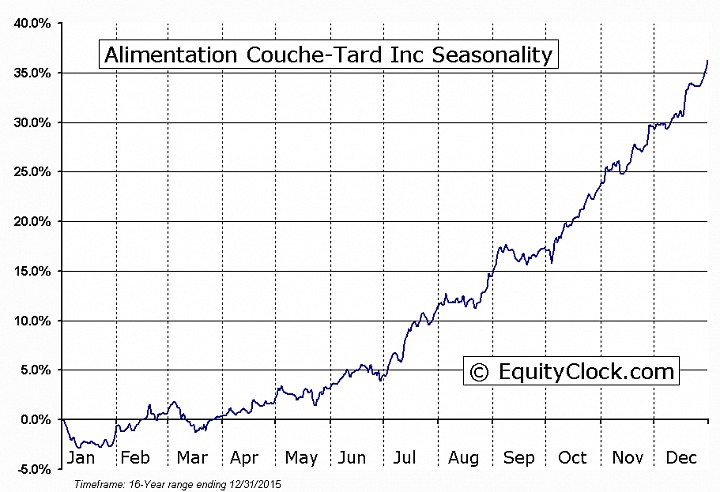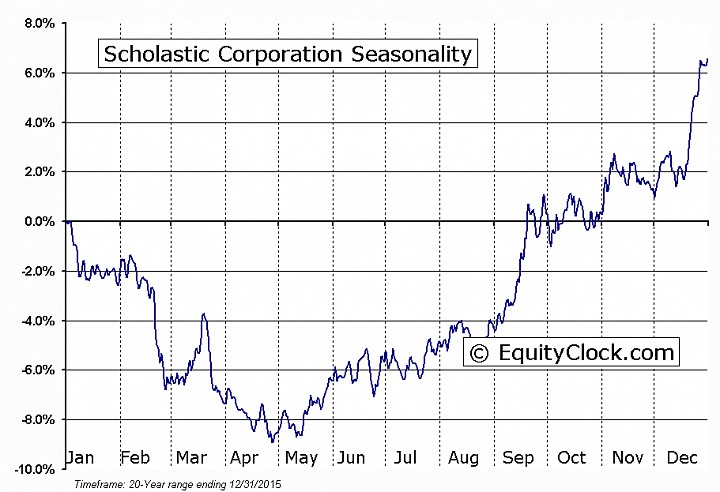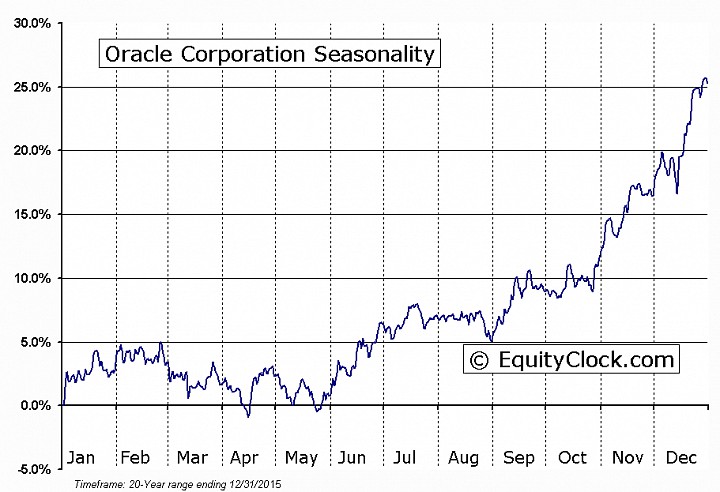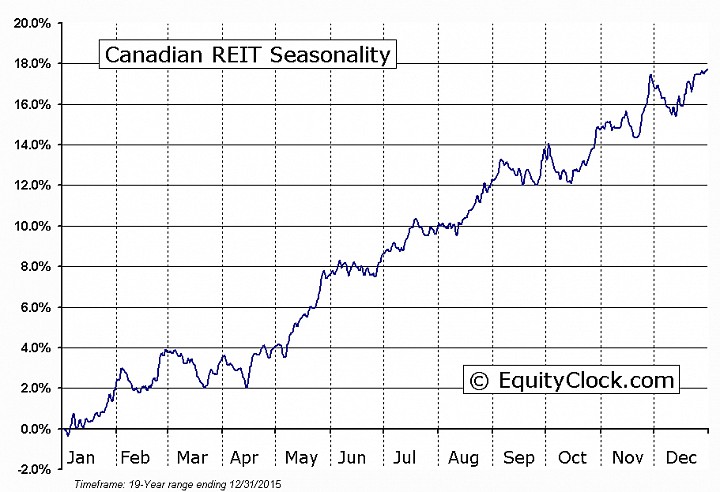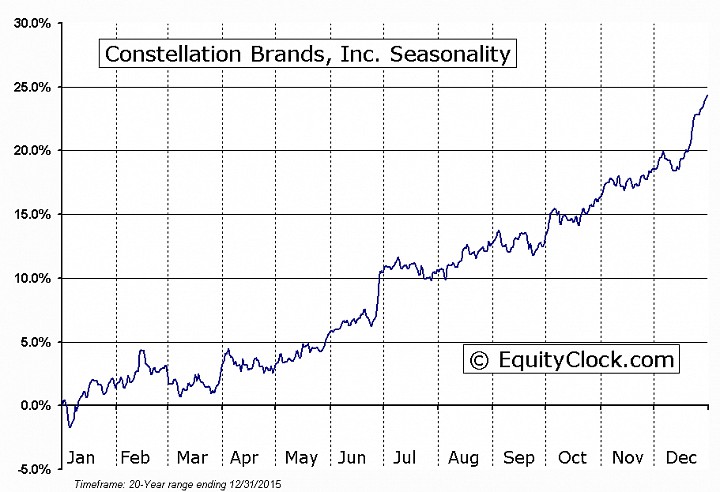 Sentiment on Friday, as gauged by the put-call ratio, ended bearish at 1.16.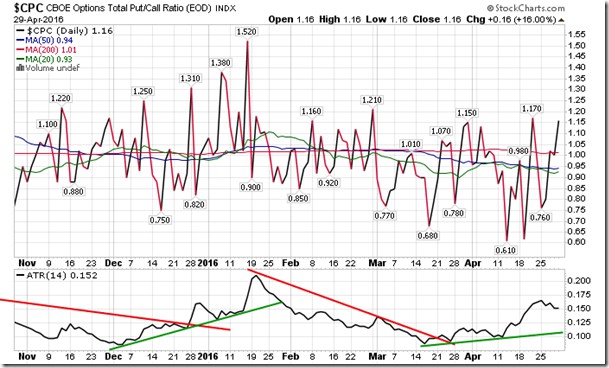 Seasonal charts of companies reporting earnings today:
S&P 500 Index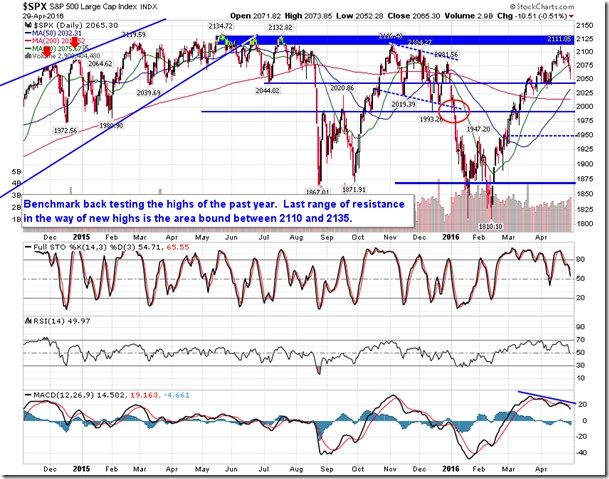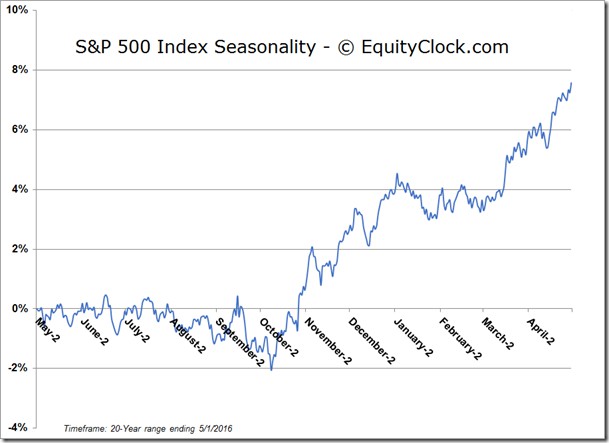 TSE Composite