2016 was supposed to be a great year for Sunoco LP (NYSE:SUN). The company completed a multi-billion dollar acquisition from its parent company and it also made some other acquisitions that were supposed to fuel growth. Despite these things, though, operational and earnings results didn't quite meet those expectations and, as a result, it is now looking to be in over its head with too much cash going out the door and too much debt weighing down the balance sheet.
On the company's most recent conference call, management acknowledged these issues and showed its path forward... sort of. Here's a selection of quotes from the company's most recent conference call that explain how management plans to dig itself out of this financial hole.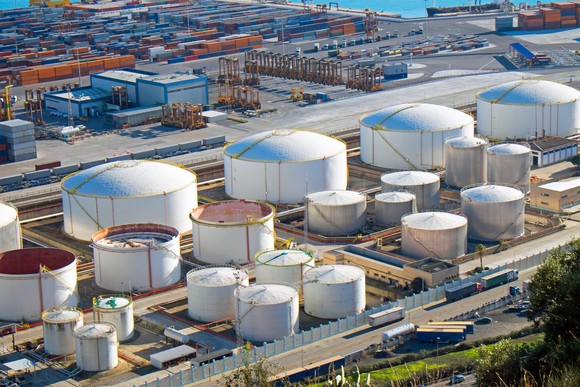 Poor payout coverage
This past quarter, Sunoco suffered some pretty bad results. On top of the huge swing into the loss column from a large goodwill impairment, the company's cash flow eroded significantly because of adjustments to inventory as well as a large increase in interest expenses. As a result, the company's ability to support its payout to shareholders with cash from operations completely disappeared. CEO Bob Owens tried to reassure investors that this is temporary and not the end of the world:
Our distribution for the fourth quarter remains unchanged from the third quarter at $0.8255 per unit. This distribution was a 3% increase from the fourth quarter of 2015 and resulted in a 0.61 times coverage ratio for the fourth quarter and a 0.98 times coverage ratio on a trailing 12-month basis. While sub 1 coverage is not something we want to manage to over the long term, we're comfortable keeping our coverage below 1 for short periods of time. The fourth and first quarters are seasonally our weakest quarters, during which we expect some downward pressure on the ratio. Further weak margins can effective this metric in any given quarter. We will manage to a 1 to a 1.1 times ratio over the long term.
Perhaps some of those things about seasonality are correct, but that doesn't change that the company is falling well short of its cash needs. Coming up that short on cash payouts can't last for long no matter how you slice it.
Debt woes
On top of not meeting payout expenses, CFO Tom Miller explained that the company is also seeing some of its key debt metrics erode even further:
For the fourth quarter we reported a leverage ratio of 6.5 times, up from the revised third quarter number of 6.18 times. The drivers were a fourth quarter increase in debt...
More