After the roaring success of Captain America: Civil War and The Jungle Book, it seems that there is no stopping Walt Disney (DIS - Get Report) .
The stock has gained nearly 9% over the past three months, leaving many wondering whether Disney can keep rising, given that it has soared 120% in four years.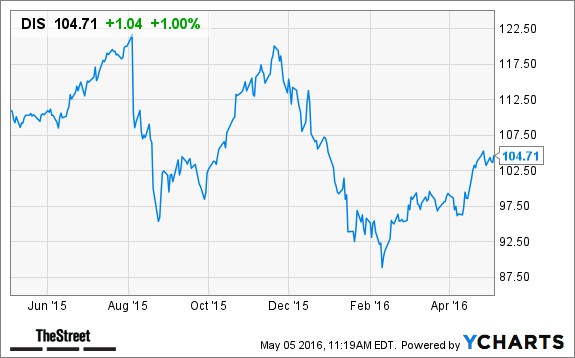 But the naysayers are wrong. This iconic media stock is among the best growth opportunities.
Must Read: Time Warner's HBO, Online Offerings Are Compelling Reasons to Invest
In the past, there have been predictions of doom for this powerhouse, and yet, it has managed to defiantly eclipse previous highs and surge forward.
Here is the lowdown on this long-term moneymaking machine.
Looking at earnings alone shows that Disney has a solid outlook.
The company is projected to deliver 11%-plus annual earnings-per-share growth in the next half decade, twice as much as that of the S&P 500. Being the biggest pure-play media entity, Disney with a market value of $169.14 billion, is more valuable than CBS ($27.6 billion), Time Warner ($59 billion), 21st Century Fox ($57 billion) and Viacom ($17.5 billion) combined.
With a median operating margin of 21%, superior interest coverage capability (53.3) and one of the lowest debt-to-equity ratios (0.3), Disney is a picture of stability, good health...
More